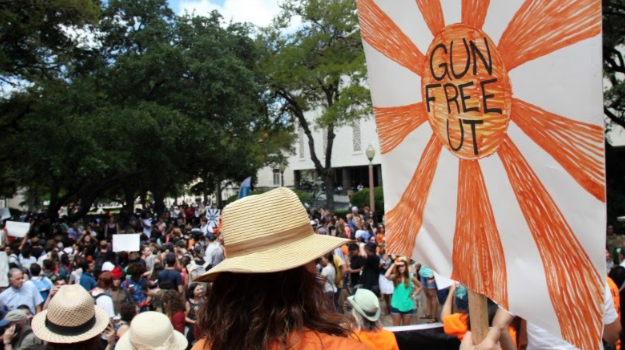 Students from the University of Texas announced plans to arm themselves with 4,500 dildos to protest Texas' campus carry law that went into effect August 1.
(Article by Bob Price)
University of Texas students organized a "Cocks Not Glocks: Campus (Dildo) Carry" protest for Wednesday morning at its Austin, Texas, campus, a Facebook event revealed.
"The State of Texas has decided that it is not at all obnoxious to allow deadly concealed weapons in classrooms, however it DOES have strict rules about free sexual expression, to protect your innocence," organizers wrote on the post. "You would receive a citation for taking a DILDO to class before you would get in trouble for taking a gun to class. Heaven forbid the penis."
Protest organizers said that, beginning on Wednesday, "we are strapping gigantic swinging dildos to our backpacks in protest of campus carry."
A counter-protest is also being organized, but is not getting the same attention from national and Texas media outlets. A "Clocks not Cocks" protest was announced by "liberty minded students" and appears to be backed by Open Carry Texas.
"One of the most important aspects of college life is being punctual for class," organizers for the counter-protest write. We all know that dildo won't get you there in time, a clock will. If you have one, bring a click and help educate those protesting with dildos that excessive use of them could cause them to be late for class!"
"Anti-gun students believe their personal safety is at risk if campus carry is enforced," The College Fix's Peter Maxwell wrote. "They are pursuing relief with sex toys."
More than 4,500 realistic looking sex-toys were donated and quickly picked up by students eager to join the protest event, the Texas Tribune reported.
The counter protesters urged students to attach a clock to their backpacks to show "that there are students, faculty, and taxpayers" that support campus carry. Open Carry Texas wrote they "want to encourage anyone attending to support campus carry bring a clock as part of our symbolic protest. Clocks are more necessary in a college campus than Cocks and we want to help educate the gun haters on how to read one and be on time for classes."
One of the anti-campus carry students, Marcella Lyles, wrote on Facebook, "What I don't understand is how so many people can be comfortable carrying a gun to class but think it's strange and uncomfortable to take a dildo to class. I figure if me having an orgasm can save someone's life and you shooting a gun can save someone's life…then I think we should be both be able to open carry. Now I tell you what…I won't use mine in class if you don't use yours…deal?"
The swinging dildo protest appears to be a reaction to the victory this week by the Texas Attorney General when a federal judge ruled against three University of Texas professors who sued to stop the campus carry law from going into effect.
The Court found that the plaintiff professors were unlikely to prevail in their lawsuit; therefore, they did not meet the legal standard for being entitled to a preliminary injunction against enforcement of the campus carry law, Breitbart Texas' Lana Shadwickreported.
"I am pleased, but not surprised, that the Court denied the request to block Texas' campus carry law," Texas Attorney General Ken Paxton wrote in a statement obtained by Breitbart Texas. "There is simply no legal justification to deny licensed, law-abiding citizens on campus the same measure of personal protection they are entitled to elsewhere in Texas. The right to keep and bear arms is guaranteed for all Americans, including college students, and I will always stand ready to protect that right."
Over 10,000 people posted on Facebook they would be participating in the protest.
Bob Price serves as associate editor and senior political news contributor for Breitbart Texas. He is a founding member of the Breitbart Texas team. Follow him on Twitter @BobPriceBBTX.