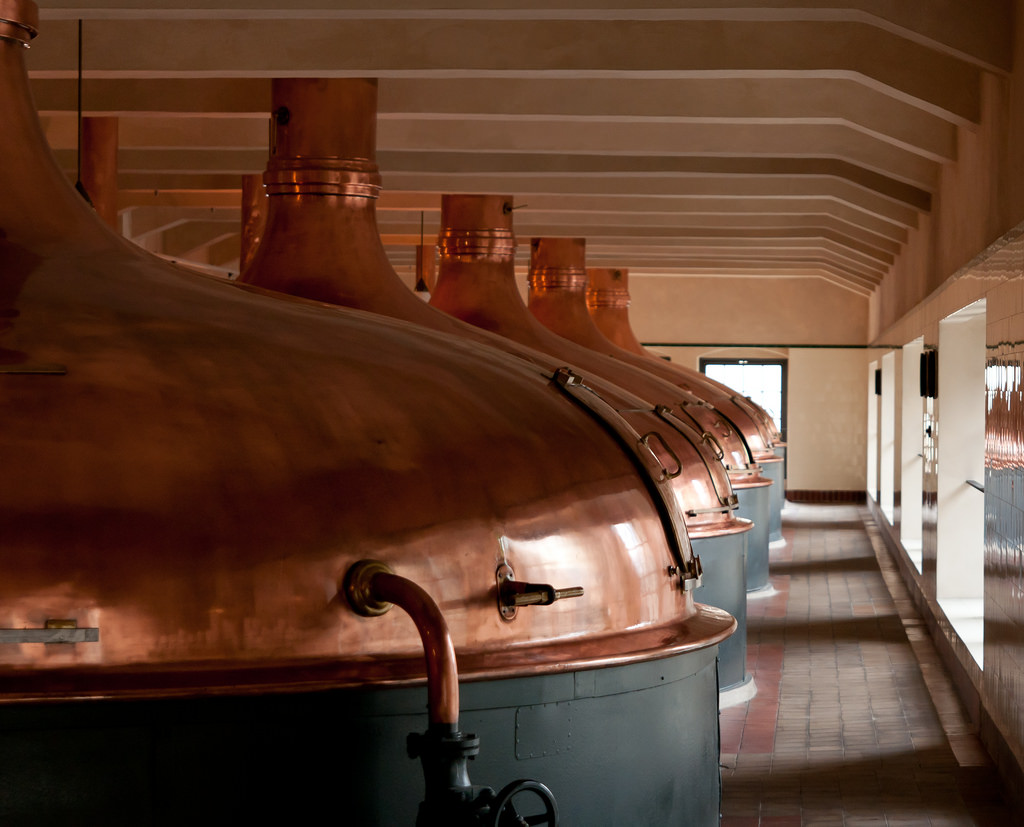 I spent my entire week drinking pilsners. And when not drinking them, I was writing about them, thinking about them in ways intellectuals would ponder Ovid's Metamorphoses, researching their heat-slaying characteristics like an indie A&R rep, and generally admiring beer walls all over town.
Article by Eric Puga
Now you might be thinking, "Pilsners are fool's gold, man. The very cornerstone of Big Beer and spineless fuckery like boneless buffalo wings and Twenty One Pilots; the golden lager that gilds the pockets of fat men with embroidered panty fetishes." And while that is all very true, over the past half-decade or so, the craft beer pendulum has swung from big, barrel-aged thuggery to approachable, sessionable, and sensible styles that are made simply, if not beautifully.
That is pilsner. No, that is a craft pilsner.
In the next few months you will get a drip-feeding about how pilsners are going to set your world alight, how fringe enthusiasm for these lagers are now the trendiest style in craft beer because, as uncomplicated as they are, pilsners are still challenging beers to make. You are going to read about the freckled landscape of pilsner-brewing Americans from Tennessee to New Mexico and one thousand other tiny victories of the beer style in between. But Austin is already there. Always has been. The rest of the country is just playing catch-up.
"The Texas heat gave us no choice," says Dusan Kwiatkowski, head brewer at Live Oak, a brewery nationally regarded for its crisp German-style lagers, including their year-rounder, Pilz. "As a pilsnerphile," Kwiatkowski declares, "something you definitely notice when traveling the United States is the lack [of pilsners]. The East Coast has a decent offering, but has only recently come online. Texas' German and Czech heritage speaks strongly [about the region's brewing culture], from Pearl Brewing's foundation [in the 1880s] to the last 20 years of Live Oak Pilz." Live Oak is on target to produce 2,000 barrels of Pilz for the Austin market in 2016, averaging out to about 600,000 pints of locally distributed pilsner.
"I think the pilsner beer being made in Austin right now is truly special," says Jester King owner Jeffrey Stuffings. "Live Oak Pilz in particular achieves such beautiful balance of rich malt character, firm bitterness, and utter drinkability. While there's really fantastic pilsners being made all over the U.S. right now, I think Austin would be in the running [for pilsner capital] … we're lucky to have one of the very best pilsners in the world … with Live Oak Pilz."
Whereas once Shiner Bock – also a lager, albeit a dark one – was the de facto beer icon in Austin, in large part because of the appetite of UT students for the budget-friendly dollar beers on Sixth Street, the high tide of transplants rolling into Austin over the last two decades have mixed their ideologies of what it meant to "act like a Texan" with the shrinking population of indigenous locals. What was once dominated by a dark, malted longneck in a dance hall has converted to a refreshing, golden tin of pilsner on the disc golf course or the tailgate lot.
"Austin will drink almost 700,000 pints and 1.3 million cans of our Pearl Snap pilsner this year," cites Michael Graham, co-founder of Austin Beerworks. "It is a testament to local appreciation of the style. All that and we still make up less than 2 percent of the Austin beer scene. [It's a] thirsty town. Releasing another pilsner is something we have talked about."
Austin's ethnic and cultural roots are largely pollinated by the stamens of the Czech and the Germans, which have made Austin pilsner such a bumper crop. Along with their lager-brewing customs brought to Texas in the 19th century, these European migrants permeated Austin's cultural evolution at large, with a celebratory expression of conjunto Tejano music to the area's folksy, earthy culinary traditions of smoked meats (brisket is king) and klobasniky (with a kolache clincher). Together with the area's heavy Hispanic roots, street tacos (with a spicy salsa picante) complete the holy trinity of Austin consumables worthy of the area's bright, crisp, deftly hopped, and light-bodied pilsners. Tacos simply require pilsners.
"I tend to agree that [Austin is] definitely becoming – if not already – the pilsner capital of America," says Josh Hare, founder and owner of Hops & Grain Brewery. "Our approach to the pilsner style … was guided quite a bit by our commitment and devotion to Weyermann malts out of Bamberg, Germany [and their varietal] called Barke …. I truly believe that a solid pilsner is built on the back of its base malt [and] without that solid foundation it can feel either flat and empty or too sweet and malty. The best pilsner makers in our great city seem to embrace time and balance as their guiding principles."
Hare suggests that, while pilsners are typically paired with rugged, outdoor experiences, the pilsner brewing process itself is delicate and subtle. "This is not a beer for standard two-row malt or Cascade hops. The approach to malt and hops should be simple and elegant," Hare says. Austin's patio culture plays a part too. "Pilsners help build community in a way that [a style like] double IPA cannot," he continues. "Conversation and dialogue is the backbone of community [and] it's easier to have a really long conversation over a couple of pilsners and still maintain your mental focus."
"Some breweries out there are glomming on with psuedo-pils and faux-pils, but that's lame," says Brian "Swifty" Peters, co-owner and head brewer at the Austin Beer Garden Brewing Co. "[The ABGB] wins [awards] because we are obsessed with lagers and have made it our mission to make world-class pilsners. I've been at it for 20 years, from the test batches of Live Oak Pilz to GABF (Great American Beer Festival) gold for our Industry Pils."
This city tends to excessively self-congratulate, but the rest of the beer-drinking community appears to believe that there is at least some validity to Austin's claim as "pilsner capital of America." At the Great American Beer Festival, the beer industry's benchmark convention and awards coronation, Austin-area breweries medaled in at least one of the three pilsner categories in three out of the last five years, claiming two straight GABF gold medals for ABGB's Rocket 100 Pilsner in 2015, and Industry Pils in 2016, while also claiming a silver for Real Ale's Hans' Pils in 2012. The lager-focused ABGB was also recognized as Large Brewpub of the Year, a remarkable achievement for a 3-year-old brewery.
"I'm not sure if medals are a good way of measuring a city's pilsner brewing prowess," says Peters. "Based on the number of pilsners brewed in each, I would think Austin wins. But I don't have data to back that up." A cursory count of local taps yielded 18 distinct local pilsners on tap around town. Concurrently. Those are IPA-level numbers. "The funny thing is, ask most brewers what they want to drink at the end of a shift and most say pilsners," says Peters.
"Hans' Pils has developed a following that is really quite unique in our portfolio," states Schmitty Schmitterson, production manager and head brewer at Real Ale Brewing Co. "I'm pretty sure it's the only beer of ours that has ever had an organized fan club on social media that was set up and run by our fans, not the brewery. It is also the only beer of ours that can claim a single handed tap takeover at a bar account. All 22 tap handles poured Hans', and the reach-in coolers were stocked with cans of Hans'. Now that is some love."
Schmitterson says that pilsners (and lagers overall) are perfect for the Central Texas climate with their clean, crisp profiles and refreshing finish that many people find appealing in Austin's ribaldry, nine-month heat wave. "We are fortunate in Austin to have a host of talented lager brewers pushing out world-class beers, and not limited to just a couple of breweries. I think that has helped develop the climate of lager love in Austin over the past few years."
Real Ale produced 3,300 BBLs of Hans' Pils to sell in the Austin area in 2016, amounting to about 818,400 pints of pilsner distributed to locals, which if you couldn't tell before now, composes 85% of an Austinite's chemical makeup. Hans' has been trending at double-digit growth for the last couple of years and remains Real Ale's fastest-growing beer.
And yet, as Austin is accustomed to do, there is even an element of "Keeping It Weird" with its local pilsners (a phrase coined in Austin, no matter how large Portland paints their letters). Jeff Young, founder of Blue Owl Brewing, incorporates a sour-mashing technique to each one of their styles, leaving a unique, tart element. "Pilsners are really relevant to [Austin's] climate because they're clean, crisp, and refreshing," he says. "I was excited to incorporate our sour process to our pilsner [Czech Czech] because it would enhance the refreshing character and show off our ability to make clean sourness part of a beer style you wouldn't normally see." Expanding the spectrum of flavor for pilsner was important for Young in such a creative, pilsner-forward town. "[And] Live Oak even helped us out a bit," admits Young.
If Texas is truly able to become as synonymous with Czech and German pilsners as fried chicken is to Kentucky, all of the relevant elements appear to be present: Austin's ethnic and cultural calculus; the region's brewing history; its patio-drinking traditions, an homage to its sordid, unforgiving eight-month summer; its rustic and spicy cuisines which pair charmingly with effervescent lagers; and Austin's generally jovial demeanor, from street festivals to musical showcases.
"In beer classes I've taught in the past, I've always said that, to me, pilsner is the perfect style of beer and I'm on a quest to find the best one," says Tony Drewry, Texas-renowned "Beer Pedaler" and current staffer at Big Bend Brewery in Alpine. "Pilsners are a good litmus test for me. If a brewery makes a great pilsner, which isn't the easiest to nail, I'll probably like [the brewery], overall."
"Given the number of award-winning pilsners in Austin and some other top-notch ones equally deserving," concludes Drewry, "and with the style being very popular for brewers to brew and drinkers to drink, I'd say that I agree that Austin is the 'pilsner capital of America.'"
It's very clear.
Read more at: austinchronicle.com