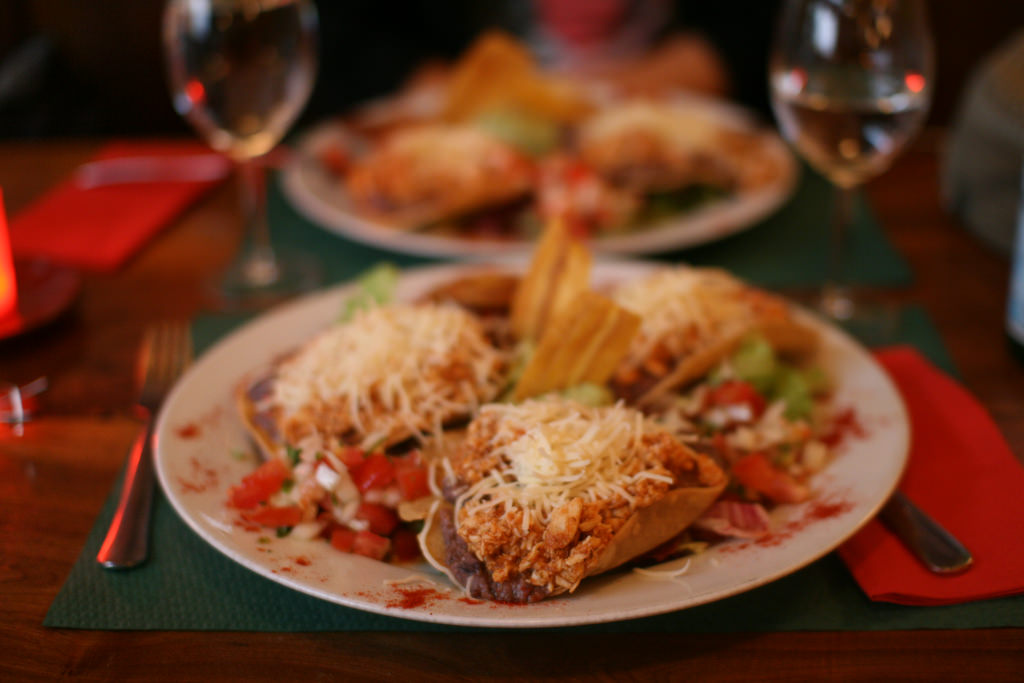 With all the restaurant closures Austin has seen in the past couple years, it's uplifting to hear about family restaurants that have been going strong for decades. Las Palomas, opened by the Corona family in 1983, is one of those success stories.
(Article by Veronica Meewes)
After working for the American embassy for 26 years, during which he was in charge of all the American art in Mexico City, Javier Corona decided to resign to spend more time with his family.
"When he resigned, the American embassy gave him the highest honor award they have given to a Mexican man," says his daughter Maricarmen Corona Dale. "And, with that, they gave him a visa and invited our family to come live in the United States."
They sold their house and car in Mexico and made the move to Texas, where Maricarmen and her older sister were to enroll in the University of Texas and their younger siblings would attend school in Westlake. But just as they were in the process of transferring their money, the Mexican government nationalized the banks and the peso devaluated. Not only could they not access any of their money, but they'd essentially lost everything.
"I never saw my parents being in a weak situation," Maricarmen remembers. "They were always very strong. As a parent, I don't know how they did it."
Javier refused to return to Mexico and instead suggested the family open a restaurant. He and his wife Amelia entertained often in Mexico City and were known for their dinner parties. "My father had a good palate and they used to travel all over the world and then recreate the recipes at home," says Maricarmen.
With the help of glowing recommendation letters from ambassadors, Javier was able to secure a loan and, just six months later, opened Las Palomas on Bee Caves Road in Westlake — on Valentine's Day.
"It was a nightmare!" Maricarmen remembers. "We had no experience. I was the hostess, my siblings were waiting tables, and my parents were in the kitchen — but everyone was in circles. But people loved the food. My parents would not let any of the plates go out without being perfectly prepared. So everybody said, 'It was a long wait, but it was worth it!'"
The restaurant was so well-received, in fact, that 33 years later, Las Palomas still serves regular customers who were present on that fateful night.
Maricarmen enrolled in UT as planned, working toward an accounting and business degree. She began class at 7 am and would rush to the restaurant after school to work. "I learned everything about the business by helping my parents and applying what I had learned," she says.
Though Fonda San Miguel was already open, Maricarmen says introducing interior Mexican food to Austin was a bit of a challenge in the 1980s. Diners expected cumin-heavy chili sauce and queso, not shrimp en chipotle, chiles rellenos, and enchiladas potosinas (enchiladas made with an herb-roasted tomato sauce).
"We probably have 100 things on the menu and just about five sauces are spicy," says Maricarmen. "Not everything has cheese. Not everything is smothered in sour cream. We specialize in seafood actually."
Javier took it upon himself to turn his customers onto mole, the dark, complex sauce made from dried peppers, unsweetened chocolate, nuts, and sesame seeds. It was his absolute favorite and the family used to make it in Mexico City once a year, to celebrate his birthday.
"He couldn't believe we could have mole every day here," says Maricarmen. "He would walk around to each table and comp customers an enchilada so they could try it. I feel like he converted a lot of people and now mole is our No. 1 seller."
After working at Las Palomas for 10 years, Maricarmen approached her parents with a proposition: to let her run the restaurant. "That was my No. 1 goal for learning — for them to be able to retire and enjoy their lives," says Maricarmen. "Working at Las Palomas is not a fun retirement. It's physical and mental work and the restaurant business is very stressful."
At first, her hard-working parents were a bit hesitant, but after a few days of consideration, they welcomed Maricarmen on as a partner, agreeing that they should step down and retire.
"It was the most successful moment that I'd ever had in my life because I never thought it would be possible," says Maricarmen, tears welling in her eyes. "And when I tell the story, I always get emotional."
Finally, Javier was able to relax and enjoy a work-free life. The life-long art lover spent his days creating watercolors inspired by his favorite artists, like Picasso, Dali, and Monet. His paintings now hang all over Las Palomas, like a permanent art exhibit honoring the man who started it all.
Maricarmen's mother, Amelia, still visits often and offers recipes and ideas for the restaurant, which is now 40 employees strong. And the Corona family members are not the only ones who are loyally devoted to Las Palomas. Maricarmen says their head cook has been with them for 27 years, and the assistant cooks for 25 and 20 years.
And with so many regulars who've been coming for just as long (some who come in several times a week to dine), Las Palomas has some beloved dishes that the kitchen could never dare take off the menu.
"Every year I try to change a few things but the font [on the menu] is just getting smaller because I can't take anything off," laughs Maricarmen. "I just keep adding things!"
Menu offerings include recipes from Veracruz, Puebla, the Yucatan and beyond — all made fresh daily. In addition to classic Mexican dishes, they offer dishes from countries that have also influenced Mexican through the years, like Argentine steak chimichurri and Spanish paella, which is served on Saturdays. The kitchen is always evolving the menu with fresh and healthy dishes, like fish with creamy citrus tequila sauce or grilled achiote chicken salad (one of the offerings on their gluten-free menu).
"We have always tried to introduce our culture with the restaurant," says Maricarmen. "I want to show people what Mexico is."
Read more at: austin.culturemap.com