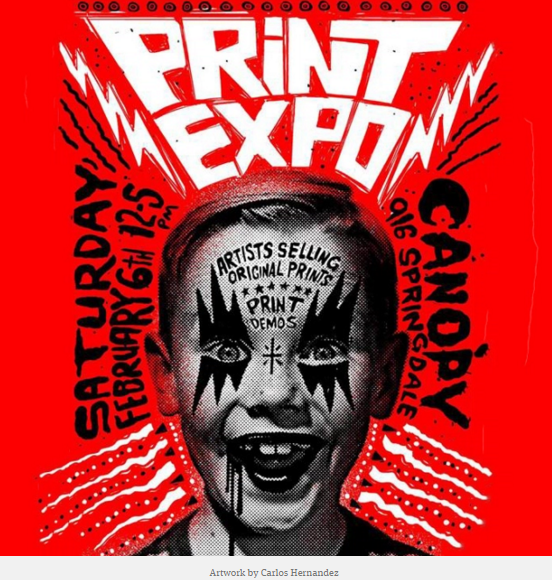 It's free — and it's filled with lots of artistic eye candy.
(Article by Jeanne Claire Van Ryzin, republished from http://arts.blog.austin360.com/2016/02/04/weekend-arts-pick-print-austins-free-bin-fest-expo/)
Print Austin's Bin Fest and Expo happens noon to 5 p.m. Saturday at the Canopy arts complex, 916 Springdale Road.  printaustin.org.
There will be printmaking demonstrations as well as a host of indie fine printmakers hawking their creations.
Print Austin is the artist-run month-long corral of the city's considerable fine art printmaking scene.
Check out shows at five galleries — Big Medium, Modern Rocks, the Women Printmakers of Austin's Bone Black Gallery, Art Science Gallery — and a couple of pop-up shows too. And several artists will have open studios.
Some 30 artists have have filled the bins in the Canopy courtyard with more than 150 original works of art that visitors can flip through and purchase.
And yes, prices are affordable.
What's a fine art print?
Fine art prints are not merely duplicates of an original like a mechanically printed poster. Though a painting, drawing or sketch can be used as a starting point, each print is an original work of art, made by the hand of the artist who usually works in tandem with a master printmaker.
Printmaking is arduous work, with most techniques involving a complicated, slow-going series of steps demanding an exacting attention to detail.
Many printmaking techniques such as woodcuts, engraving, mezzotint, etching and lithography are centuries old.
Prints are created in sets, referred to as editions. But each print is a unique impression of the same image. Individual impressions vary from one another, sometimes widely.

Read more at: http://arts.blog.austin360.com/2016/02/04/weekend-arts-pick-print-austins-free-bin-fest-expo/