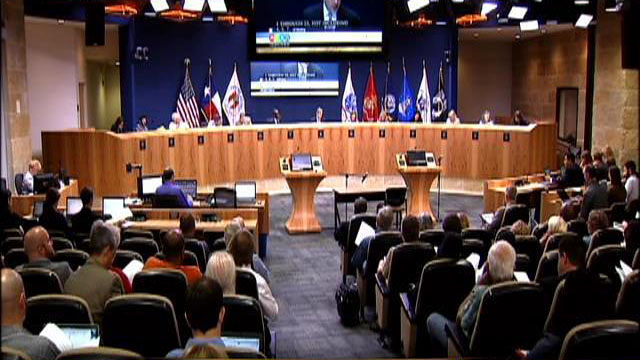 After last week's very strange meeting – quorum-less with a quorum – this week's (June 16) City Council session at least anticipates a full complement of participants. Enough proposals were punted from last Thursday to this one (and beyond) to fill a normal agenda, but there's also enough new material to keep the dais bubbling into the night.
(Article by Michael King, republished from http://www.austinchronicle.com/daily/news/2016-06-15/nonconsensual/)
Last Thursday (June 9), three Council members – Mayor Steve Adler, District 2 Council Member Delia Garza, D5 CM Ann Kitchen – were all in D.C. supporting the city's final effort to win the U.S. Dept. of Transportation's Smart City Challenge ("Down to the Last Pitch," June 9). Six votes (of 11) were still required for any action, but with only eight members on the dais, the conservative bloc (D6 CM Don Zimmerman, D8 CM Ellen Troxclair, and D10 CM Sheri Gallo) discovered they could flex their muscles (at least temporarily). Heroically unflappable Mayor Pro Tem Kathie Tovo, presiding, had to walk through the consent agenda item by item, with several 5-3 or 5-2-1 votes (with variations) that killed proposals that under a full quorum would have readily passed as a group on consent.
The result was largely symbolic – only additional, pointless delay – as City Manager Marc Ott indicated that because of the unusual circumstances, staff-proposed items that appear to have dais support but were killed by too-small a majority would return to future agendas. That included both some central library equipment and materials funding and all of $100,000 to increase indigent health care services – both will likely be waved through this week, unless Zimmerman, et al., decide to make a fuss for show. Also delayed were final decisions on whether to bite the bullet on the expensive acquisition of police body cameras and related hardware, as well as license-plate readers – but those proposals won't return until at least next week, June 23.
Presumably, all 10-1 members will be on the dais this week, meaning at least the consent agenda will actually pass on consent – except for those spending items that some members like to pull from consent and fuss over to show that they're fiscal conservatives or simply don't trust the professional staff. Beyond that there are several major items that are definitely non-consensual – not to mention 32 zoning cases that could be a day's work all by themselves.
Other items to watch:
• Item 27: Mayor Adler's formal proposal of a $720 million November transportation bond package,weighted toward "corridor plans" (seven major corridors — Riverside, Lamar, Burnet, Airport, etc.) that have been completed but never funded. Two of his co-sponsors — D4 CM Greg Casar and D7 CMLeslie Pool – have said they appreciate the mayor's framework, but want to reallocate major monies away from regional highway projects and toward more local and "multi-modal" (bike, mass transit, pedestrian) projects. (Action isn't expected before June 23.)
• Item 35: A committee-recommended, broad "Fair Housing Initiative" (carried by Casar) that could include inclusive zoning, affordable housing, the Housing Trust Fund (also subject of Item 30), housing diversity, etc.
• Item 26: A potential increase in the residential property tax exemption of seniors and disabled (sponsor Gallo, who last week on principle wouldn't vote for any new General Fund expenditure, apparently considers this spending in a different category).
• Items 72-75: Four "time-certain" public hearings, nominally scheduled for 4pm, including both the contentious amendment (Item 73) of the Land Development Code to standardize regs covering public and charter schools, and the potential adoption (Item 72) of the Sidewalk Master Plan/ADA Transition Plan, and a couple of others.
• Items 21 & 22: Spending on computer equipment and digital materials for the Central Library, with Zimmerman (and occasionally a couple of others) like to object to on general grounds, including that smartphones have made libraries obsolete. Ignorance, apparently, still thrives. Returned from last week because of the short quorum, they might fly grudgingly on consent this week.
• Item 8: $100,000 in additional funding for comprehensive health services for indigent residents, through Austin Travis County Integral Care. Another casualty of the short quorum last week, despite entreaties from supporters who pointed to the obvious need. Should pass without objection this week, but you never know.
There's lots more where all that came from – and don't forget those 32 zoning cases. One (Item 63) is the proposed Grove at Shoal Creek PUD, which (if it isn't postponed, again) could exhaust several hours. The full agenda along with supplemental material is available at the City Council web site. For more on this meeting and continuing Council coverage, follow the Daily News and this week's print edition, available Thursday morning.
Read more at: http://www.austinchronicle.com/daily/news/2016-06-15/nonconsensual/