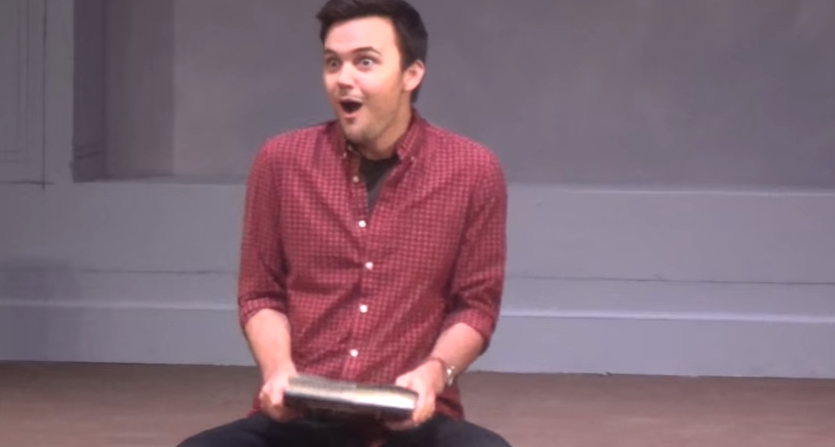 When looking for dramatic personalities, it's hard to go wrong with one of the most legendary women of musical theater, Barbra Streisand. Just look at this past weekend's Tony Awards, where  Streisand was selected to present the Best New Musical award to this year's revolutionary show, Hamilton.
(Article by Andrew J. Friedenthal, republished from http://arts.blog.austin360.com/2016/06/13/theater-review-zach-theatres-buyer-cellar-gabs-about-babs/)
Playwright Jonathan Tolins is more than aware of the many associations that Streisand automatically brings to the mind of theatergoers, and exploits those for both humor and poignancy in the one-man play Buyer & Cellar.
In Zach Theatre's new production of the show, playing through Aug. 14, actor J. Robert Moore gives a tour-de-force performance that fully embodies the nuances of Tolins' wit and warmth.
Buyer & Cellar is a fictional story based on the fake underground shopping mall Streisand has created in her basement to store her many collections of antiques, dolls, clothing, and the like. Tolins takes this already ridiculous premise further by imagining an actor hired to staff that mall, to complete the illusion of its functionality.
This is, of course, a comedic proposition, but in Tolins' – and Moore's – hands, what begins as a satirical premise quickly becomes an exploration of loneliness and the fierce desire for connection. Though a bit longer than it needs to be (Tolins could have easily pared the text down into one act instead of two), Buyer & Cellar is a testament to the power of intimate storytelling.
In portraying, among other characters, Alex (the hired actor), Barry (his boyfriend), and, of course, Babs herself, Moore masterfully presents a minimalist approach to capturing the nuances of personality and emotion.
The play's meta-textual prologue notes that the actor will not be doing an impression of Streisand, and Moore follows through, creating a characterization that embodies the star's sometimes-narcissistic swagger while at the same time leaving room for a vulnerability that allows the audience to truly feel for her.
Buyer & Cellar is not an excoriating take on Streisand's public persona, but rather an exploration of what may be beneath all of that, utilizing Alex as an emotional counterpoint. Moore makes Alex, Barry, and Barbra come to life, all with the warmth, humor, and closeness of a gossipy gabfest. One greatly regrets the body mic he wears, a perhaps-necessary accoutrement that sacrifices some of the intimacy of the atmosphere.
Zach's production Buyer & Cellar is, of course, not really a one-man show. Director Nat Miller and a talented team of designers have carefully crafted a mutable environment for Moore to play with and transform alongside. Notably, stage manager Megan Smith is pitch-perfect in calling lighting, sound, and video cues that interact with Moore throughout the play, enabling him to create the world of Streisand's fantasy mall.
Buyer & Cellar is a solid show, filled at turns with humor and poignancy, that soars in the hands of a performer as talented as J. Robert Moore.
Read more at: http://arts.blog.austin360.com/2016/06/13/theater-review-zach-theatres-buyer-cellar-gabs-about-babs/