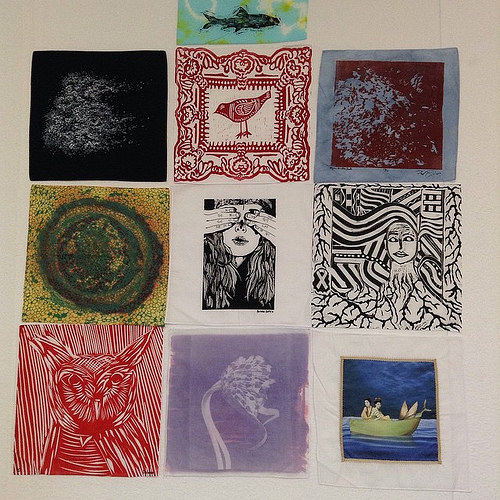 Neosho artist Sarah Serio had her reduction block print "Innocence Died Screaming" selected to show during PrintAustin 2016.
The work will be on display in "The Contemporary Print" at Flatbed Press in Austin, Texas.
(Article by Staff Reporters, republished from http://www.neoshodailynews.com/article/20160204/NEWS/160209424)
The exhibition, which runs through Feb. 14, is a juried survey of the traditions and the innovations of contemporary printmaking happening across the nation, according to Serio.
"It's an honor to have my work selected to show alongside this great group of contemporary prints and artists," she said. "I've seen images of other works that were selected for this show, and it's great to know that my work is being seen with all these other forms of printmaking and the public is being educated on the process."
"Innocence Died Screaming" is a hand-carved, six-color reduction block print. This is a process of carving the design out of a block using chisels and gouges, then applying oil-based ink to the block, placing paper on it and passing it through a hand-cranked printing press.
This is done for each of the colors used to create the piece.
PrintAustin is an annual festival celebrating printmaking that shows new works from across the country and hosts workshops and demonstrations. With three professional print shops, nationally recognized university printmaking programs, internationally acclaimed print collections and a thriving printmaking community, Austin is a hub for printmaking in Texas.
The exhibition was judged by Mary Heathcott, director of Blue Star Contemporary Museum in San Antonio, Texas. She has worked at several contemporary galleries, including the Museum of Contemporary Art in Chicago.
Serio is a nationally exhibiting artist who works in traditional printmaking. She is a member of the Neosho Arts Council board of directors, past-president of Joplin Regional Artists Coalition and a member of the Spiva Center for the Arts, artCentral and Mid-America Print Council. Her work can be found sarahserio.weebly.com and on Facebook, Instagram and Pinterest at SarahSerioArt.
Read more at: http://www.neoshodailynews.com/article/20160204/NEWS/160209424