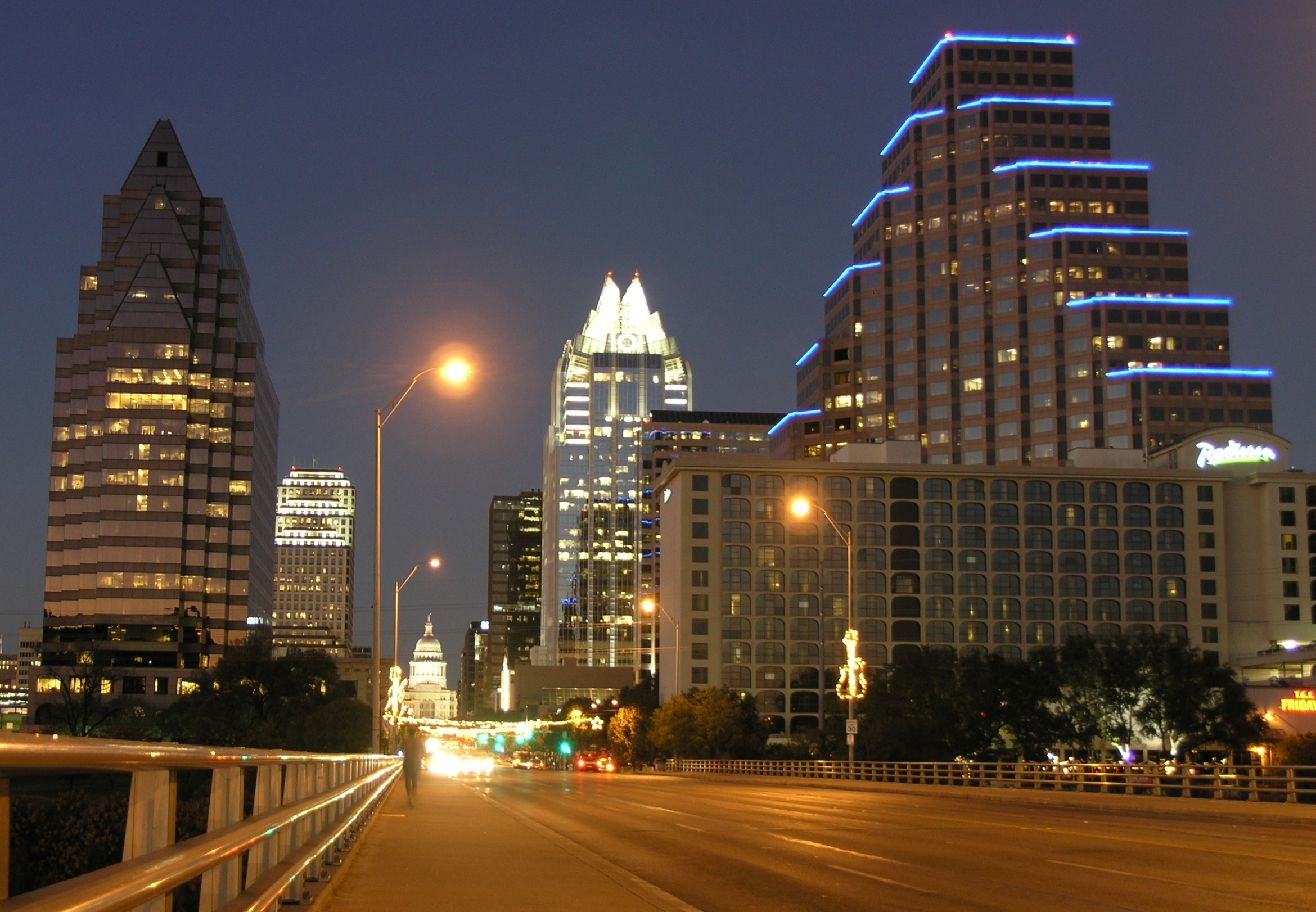 "One Night in November" is the eighth installment of our monthly series in which we visit a half-dozen local music hot spots on a single evening. For our first Saturday-night outing, we stayed entirely on the south side of town, below Ben White Boulevard, and came up with ample evidence that you need not go anywhere near downtown to sample a broad range of musical genres and interesting venues.
Article by Peter Blackstock
6:30 p.m.: Rosie & the Ramblers at Central Market South. Both locations of HEB's higher-quality grocery stores serve up music on many nights at their in-store cafes, and judging from the crowd that showed up for this family-friendly Americana act, it's something that neighborhood shoppers greatly appreciate.
Singer-guitarist Selena Rosanbalm, backed by electric guitar, bass and drums, informed the crowd that the band was just returning from a seven-month hiatus. They didn't seem rusty for the absence, shuffling easily between country, folk, rockabilly and bluesy numbers that drew dancers of all ages onto the floor for a mix of original tunes and covers by the likes of Lucinda Williams and Colvin (as well as the old-school classic "Tennessee Waltz").
8 p.m.: Relief at South Austin Brewery. Nestled among a small campus of warehouses on St. Elmo Road just east of Congress Avenue, this relatively recent addition to the local brewpub scene has a smaller upstairs room where the venue sometimes has bluegrass and other music. But on this night, the larger open area downstairs served as a good spot for punk-pop band Gold Steps' EP release show.
Our busy "One Night" schedule allowed time to catch only the first of five acts booked. If it was a bit of musical whiplash going from the Ramblers' easygoing melodicism to show-opener Relief's aggressive energy-burst hardcore, it was also a vivid reminder of just how diverse the Austin music scene is.
Formed from the dissolution of Bastrop band Beyonder, Relief has played just a handful of gigs at downtown bars such as Dirty Dog and the Lucky Lounge, but they're a tight five-piece, with a positive message that contrasts the fury of their sound. Frontman Christian McGahan offered assurance to those who might at times be overcome with depression that "every single one of you is loved, no matter what."
9:15 p.m.: Ray Prim at Strange Brew. No venue has done more for the deeper south end of Austin than this popular coffee shop and listening room, which books multiple shows almost every day and has become a hot spot for touring troubadours as well as a home base for many locals. On this night, bandleader Prim and his six-piece crew were doing a live taping, which made the occasion a little more formal than usual.
Prim's music draws from so many different genres and styles that it's almost impossible to pigeonhole, and in that respect, it's a classic representation of what has always made Austin music special. Supported by two violinists, keyboards, drums, bass and a featured singer who goes by the name of Mexican Chocolate, Prim wove magical spells with songs that blended elements of pop, soul, funk, Latin, jazz, rock, classical, world music and more. Walking a careful balance between sophistication and spontaneity, Prim and his bandmates clearly have put a lot of work into what they do, but once they're onstage, they give themselves over to the emotion of the moment.
10:10 p.m.: Ady Hernandez & Curtis Lee at Moontower Saloon. "We got called at 7:50 to play here at 8 o'clock," these two musicians from local outfit the 80H Project said as they started their last set on the back patio at Moontower, a sprawling multi-purpose bar on Manchaca Road just south of Slaughter Lane. Indeed, the larger ensemble Texas KGB had been booked, but the stripped-down sweet soul sounds of Hernandez and Lee proved a perfectly welcome late-minute substitute.
Moontower has become a prominent south-end hangout for younger Austinites who have increasingly gotten priced out of the city's central core. Hundreds of patrons gathered around space heaters scattered across the indoor-outdoor space on the first cold night of the year, watching college football on big screens, playing pool or just hanging with friends.
Out back, Hernandez and Lee served up selections such as Stevie Wonder's "Isn't She Lovely" and the original tune "Beautiful" (which we'd heard them do in a fuller arrangement at, of all places, a McDonald's location during HAAM Benefit Day in September). The stars twinkled above as patrons, some with dogs, gathered around a fire pit, soaking in all that Austin can be on a crisp November night.
10:45 p.m.: Jonathan Terrell at Indian Roller.Both Moontower and Indian Roller, less than a quarter-mile apart on Manchaca, have taken the indoor-outdoor bar blueprint that has made East Austin a focal point in recent years and brought it to the south end of town. Whereas Moontower's stage is outside, Indian Roller puts the band indoors, tucked into the corner room of what apparently used to be a rambling residence that has been retrofitted with a bar and lounge areas.
On this night, singer-songwriter Terrell was celebrating a new EP, "Color Me Lucky." It's a distinct turn from the harder rock he's pursued with Not in the Face, but also not as overtly country as some of his initial solo stuff. Though his accompaniment included pedal steel (along with drums and bass), it added more atmosphere than twang. The solid sound mix in the small space kept the focus squarely on Terrell's sharp lyrics and impassioned vocal delivery. His own songs were the highlight, but if you're going to pull out a cover tune, you can't go wrong with Willie Nelson's "On The Road Again."
11:15 p.m.: Ramsay Midwood at Sam's Town Point. The third leg in the suddenly hopping south-of-Slaughter district is the one that's been around the longest. Shows at Sam's have been happening since the last decade, and Midwood plays here often. His backwoods country-folk-rock rambles fit the funky venue's edge-of-town roadhouse vibe perfectly.
With a backing crew that includes a ringer in former Gourds accordionist Claude Bernard on keyboards, Midwood swings deep into grooves that draw upon that classic Texas roots formula, but he gives things a twist with a dry wit that carries over into between-song banter. Lamenting the Texas Longhorns' shocking loss to Kansas earlier in the day and the doomed fate of coach Charlie Strong, he crossed the streams into politics: "They gotta replace that guy with someone who's never coached football. Somebody who will divide the team … and also will encourage sexual assault."
And then it was right back into the music. "Let's talk about something we all can enjoy, which is chicken," he suggested as the band kicked into Norman Greenbaum's poultry-themed "Petaluma." Guitarist Jimmie Dreams, sitting in for usual lead player Randy Weeks, took an occasional vocal lead as well on tunes such as Eric Clapton's Southern-rock nugget "Lay Down Sally."
Join us again next month for "One Night in December" — date to be determined.
One Night, By the Numbers: 11.7 miles driven (from Point 1 to Point 6, not including to and from home). No parking fees; that's one great thing about journeying far from downtown. Admission charges: Free at all locations except Sam's Town Point, which had a very reasonable $5 cover. Tip jars were featured at most venues.
Read more at: music.blog.austin360.com