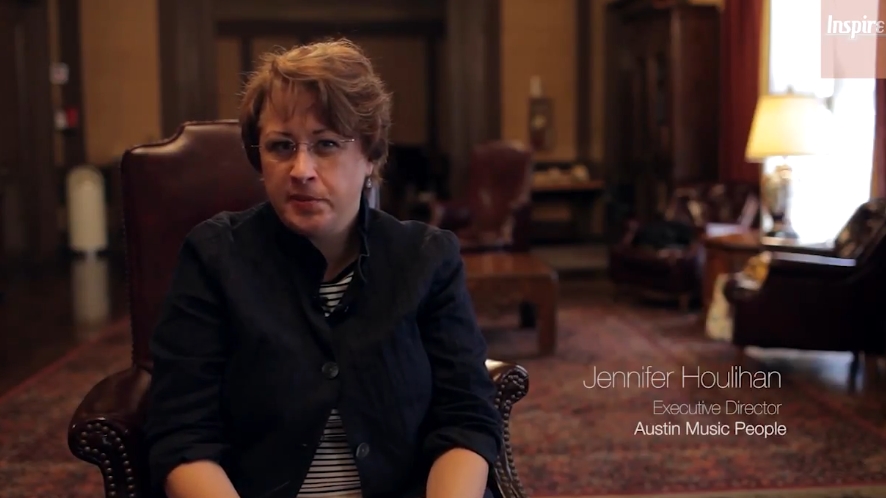 In February, Mayor Steve Adler introduced the Austin Music and Creative Ecosystem Omnibus Resolution, directing City Manager Marc Ott to examine the feasibility of a broad range ideas to address what he has called "a crisis" in Austin's music and creative industries. Since then, the resolution has wound its way through various city departments and citizen-led commissions and meetings including a series of genre-based music gatherings hosted by each member of the Austin City Council in his or her home district to gather community feedback.
(Article by Deborah Sengupta Sith)
In a standing room only, special called meeting last week, the Austin Music Commission voted to highlight four priority items in the omnibus bill that they believe City Council should act on immediately when they reconvene following their July break. Those actions include simplifying bloated permitting and licensing procedures for venues and creating a new entertainment license that might streamline the process. They also advocated for changes to city land use regulations to and adopting an "agent of change" principle in new development. Agent of change dictates new businesses moving into an area are bound by existing community standards, such as requiring a new condo development built next to an existing live music venue to absorb the sound proofing burden.
In the four and a half years since she took the reins of the local music advocacy group Austin Music People (AMP), Jennifer Houlihan has emerged as a tireless champion for musicians and music business owners. She haunts City Hall, attends countless committee meetings and reads complicated policy documents the way most of us consume cat videos. We hit her up for her thoughts about the Omnibus bill, the tension and budget discrepancy between the city's music and cultural arts departments and the mayor's strike fund, a new plan to address Austin's affordable housing crunch that might also be used to provide relief to Austin music venues.
What do you hope comes out of the Omnibus? The reach of the resolution seems very broad.
It's very broad. For the music community, our priorities are the policy changes because those will have the lowest cost and potentially the biggest impact. We're excited about the agent of change principle and changes to the land use code.
Can you explain the changes they're looking at in the land use code?
If you are a developer and you are building something downtown in the Central Business District you can get a bonus through the downtown density bonus program for putting a cultural use in your ground floor retail, which is awesome, but right now it only applies to that part of town which stops just short of Red River. So we'd like to see other busy corridors having this same kind of benefit.
If you look at the Imagine Austin plan and the idea of town centers, we think that's a great idea because it will give people cultural assets in their neighborhoods so they don't have to drive downtown. If a way to increase that number of cultural assets is to provide incentives to developers to put a fashion studio or a dance studio or a recording studio on the ground floor of a larger building, we'd like them to have the option.
What do you know about the mayor's strike fund?
It was designed to address affordability for housing and also commercial real estate because everybody's rents are going up.… You think about music venues just as an example. Most of those guys don't own their buildings. They lease the buildings and somebody else owns the land that they're on. So when the property tax goes up on that land, that shows up in their rent. Sometimes their business model doesn't let them cover it and they have to close.
So one of the uses for the mayor's strike fund could be for the city to purchase the land underneath some of these iconic businesses so the business would continue to pay their rent to the city, but there would be some checks on how fast the rent would go up because the city is now the landlord. … When you look at the Omnibus, there's a trust in there, and the ask is for about 1 million over three years. That's not something that either AMP or the music commission endorsed because we don't see the return.
If it were a million dollars that was put into a loan fund so that businesses could get microloans, so like Rude Mechs or Salvage Vanguard could have a bridge loan until they find their new space and could pay it back over three years, that I could see, because maybe a million dollars could make an impact there…. But a million dollars is not going to buy 95 acres and then build a building on it. It won't go that far.
On the city level, there's been a history of infighting between cultural arts and music. Do you feel that bringing everyone together under this omnibus helps ease the tension?
I think it's been a great conversation and the timing has been nice because it's also been with the new commissions…We have a new project with new people that didn't have the baggage. I think the commissioners are taking a leadership role in showing how the groups can work together.
Does cultural arts have more funding than music?
Cultural arts has a bigger staff than music and they get more funding because they administer the hotel occupancy tax funds. Music's overall budget is between $720 and $780,000. That's their budget for the year, and that includes salaries and benefits and everything. The programming budget part of that is less than $100,000. The cultural arts department has at least nine million dollars to give away.
The tension is pretty classic… It's the same as the tension you see at a university between athletics and academics. One side gets all the money and the other side gets all the attention…. So music would like to have additional programming resources to do actual economic development work and the arts would like to get some of the love that music gets in international media coverage.
It seems music brings a lot of hotel business into town. Why isn't music getting more of the hotel occupancy tax money?
That's a really good question.The hotel occupancy tax has very strict rules. There are only a limited number of ways it can be spent by the city. So it can be spent on things like sports stadiums, but it's intended to be kind of a self-replenishing fund… money from heads in beds spent on things that will bring more heads to the beds. It's supposed to be a virtuous cycle.
Cultural uses are permitted, which is how the cultural contracts program is funded because that is allowed, but for whatever reason it's open to music nonprofits like the symphony and Austin Classical Guitar and Conspirare and things like that, but at this point, Beerland or Stubb's or ACL Live could not apply for any of those funds. They do have a set of contracts for festivals, but those are primarily for culturally specific festivals. So if you were doing a Pacific Rim festival or a Tejano music festival, you might be able to make your case for that, but it's not for things like Southby or ACL.
So that's kind of the line where the tension comes from. If you're a nonprofit music organization, you do have things like that available to you. If you're a for profit music organization or a small business, you don't have access to the same resources that say, Austin Barbershop Quartet, if there is such a thing, has access to.
As somebody who loves government, what has been the most rewarding part about all these community meetings and watching this proposal go through a process that to some of us seems quite long and tedious?
This is going to sound corny, but the best experience I had through this whole process was probably the district 4 summit at Kick Butt Coffee….It was (city council member) Greg Casar's…and Greg loves metal so he got the heavy metal district. We got there to prepare for the summit… and there is a four or five piece brass band on the sidewalk playing a metal cover of "War Pig"… one of Greg's favorite songs. So you've got guys on the sidewalk with a tuba and a trombone and a drumkit. … playing Black Sabbath as Greg walks up.
It was one of the best attended summits. There were so many people there, and they're all there with their long hair and beards. And everyone is dressed in black and no one's seen the sun in a while and they get up to speak and they're saying things like, "I'd like a better understanding of the dialectic between this and this," and we're like, "This is what we're talking about."
These are people that we've never seen before, that live in this district and care about this genre. They carved out time on a Saturday afternoon when they could have been doing something more fun and they showed up prepared ready to talk about really detailed issues and it was like my inner Leslie Knope just wanted to cry at the table, because they were asking outstanding questions. They were coming up with great suggestions… If there was more civic engagement like that in our city, we'd solve our problems in record time.
Read more at: music.blog.austin360.com