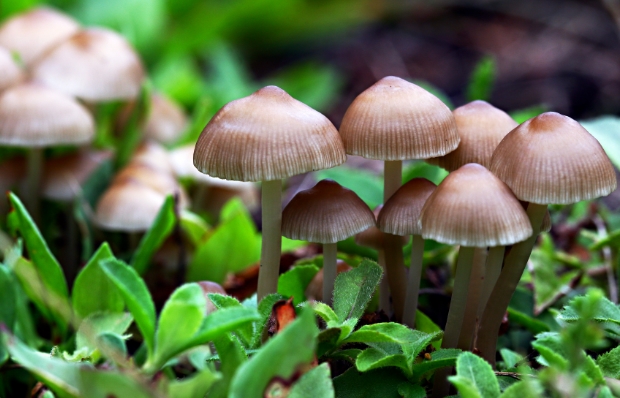 For childhood friends Ryan Sansbury and Jeremy Bastian, it all began as a series of living room experiments. Using coffee grounds and "beer dirt," they started a mushroom farm, throwing in some "21st century Chia Pets" for good measure. A successful Kickstarter and a move to Ceres Park Ranch later, they are now running a full-cycle sustainable food business.
(Article by Jessi Cape)
The move created a symbiotic relationship. Ceres Park also houses Jester King Brewery, which is integral to a growing process that's far more interesting than just the sun, water, dirt formula used in most fungi cultivation. In short, there is a customized pasteurization process, specialty grow-bags, and a unique formula that includes spent coffee grounds, used brewer's grains from Jester King, and wood chips. Once the culture is added to the bags, it takes less than two weeks in a controlled 98% humidity environment to have a surprisingly lovely bouquet of oyster mushrooms blooming, ready to be harvested by hand.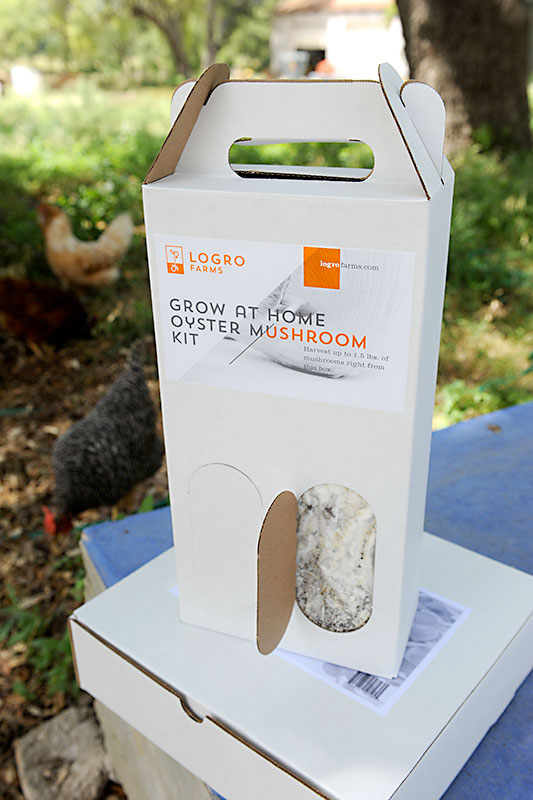 "We do oysters exclusively right now because they're the best to grow and there's a huge market for them in Austin right now," says Sansbury. The resourceful little things are purported to lower cholesterol and act as a natural source of vitamin D. Sansbury adds that they're "sometimes called vegetarian steaks because of their meaty texture." The variety's mild and delicate flavor profile makes them versatile, and their relatively short shelf life means limited distribution in the U.S.
Logro sells directly to the public through the Sustainable Food Center's farmers' markets and to several local restaurants, including Olivia and Jack Allen's Kitchen. Of course, Ceres Park neighbor Stanley's Farmhouse Pizza is a big fan, too. Two of Stanley's staple cold-fermented dough pies feature the oysters – the Ferdinand (red sauce, Italian sausage, fresh mozzarella, oyster mushrooms, caramelized onions, and Calabrian chili oil) and the Beatrice (Stanley's own béchamel sauce, fresh mozzarella, goat feta, oyster mushrooms, baby arugula, and extra-virgin olive oil). Jester King's master brewers have gotten in on the act too, developing Snörkel, a saison described as a "farmhouse ale brewed with alderwood smoked sea salt and oyster mushrooms." Their just-brewed fourth batch is already disappearing from shelves.
Sansbury and Bastian operate Logro Farms with a progressive approach, using recycled materials where possible. "Traditionally, companies only focus on the financial bottom line, and that's very important to us too, because we have to stay in business," says Sansbury. "But it's also important to us to consider our impact on the environment and the community. That's where you get the triple bottom line: ecology, society, and economy of the business." Because they have those principles built into their model, Logro has already recycled more than 30 tons of waste material. They also donate leftover mushroom compost – a great additive that helps plants retain moisture and nutrients – to schools and community gardens.
Their other revenue stream comes from home gardening kits, which began as an incentive during their first Kickstarter campaign, and now can be shipped worldwide. "We can be hyper-local and we can also be global," says Sansbury. They offer kits for mushrooms, wheatgrass, herbs, microgreens, and some veggies, and they're ideal "for anybody that wants to garden in their kitchen," he adds. At the end of April, Logro successfully funded their newest venture through Kickstarter: 3D-printed planters. Soon they'll be able to print completely customizable (shape, color, design, etc.) kits on-site, and they're even looking into sustainable recycled printing filament. "People wanted to personalize their home gardening experience. One of our main goals is to get people growing more food at home and get people more engaged," says Sansbury. Just like the fungi stars of their show, Logro Farms is mastering the idea of resourceful sustainability.
Read more: austinchronicle.com