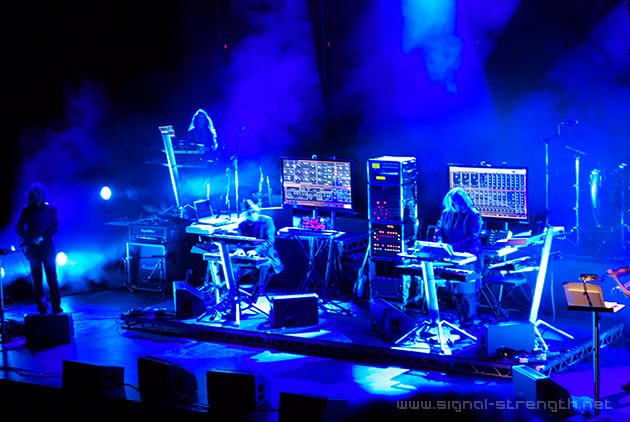 "That's the thing, the way music is thought or written about now, is so much different," explains Ben Webster, who goes under the DJ sobriquet Butcher Bear, as he takes indecisive drags off a half-lit cigarette. "When I was 13, I would go to [defunct Drag record emporium] Sound Exchange for hardcore records, or whatever. Everything you wanted to buy was filed under 'alternative.'"
(Article by Kahron Spearman)
That included "electronic music," mislabeled as a trend by those who considered Kraftwerk, Eighties New Wave, and even Brian Eno's dense works as niche quirk. Today, based solely on any number ofBillboard charts, what isn't electronic music? Virtually all pop, R&B, a considerable portion of "alternative," and especially rap is made from emulators, drum machines, and voice modifiers.
Delving into Austin's bubbling digital cauldron, one quickly realizes "electronic" is the laziest term possible. The gulfs between the talented handful of locals interviewed herein couldn't be any more apparent, the eschewing of acoustic performance being the only hard-lined connection. Found here is a staggering stratification: EDM, beat/bass, punk- and metal-influenced synth waves, electro, house, and so on.
"We don't say electro – electronic – because then people think instrumental," explains Erin Jantzen of synth/soul trio Keeper. "They think techno, EDM, whatever."
"What people perceive as being electronic isn't necessarily what they think it actually is," adds her bandmate, singer Yadira Brown, instinctively finishing Jantzen's thought.
No one wants the perception that electronic music means …
"Not organic," finishes Brown. "That's the problem, though. When somebody says electronic, there's thousands of different kinds of electronic music."
The Sirens: Keeper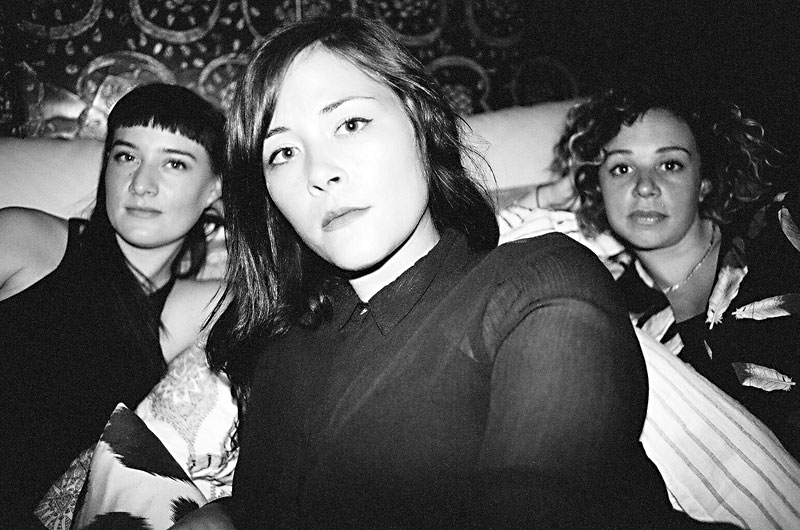 Keeper is the sound of having been in love.
The group's connectedness feels tangible, true. Their interactions are engaging and sweet-tempered, and they respect one another. Witnessing that connection live proves an even more liberating experience, a sultry and sensuous affair devoid of blue-eyed overreach. And in person, they're funny.
"Make a million dollars. That's all I'm going to say," laughs Lani Camille Thomison, the third vocalist in the all-female outfit, sunken deep into a couch.
"You suck," Brown quips at the inside band joke.
"We were trying to come up with a name, and we were all going back and forth via text message," explains Thomison. "They were also kind of drunk. I was on my way over there, and they were like, 'Lani, we have the best fucking name ever: Make a Million Dollars.'
"I was like, 'Guys, we're not doing that.'"
Keeper grew out of various other projects, including 10YR (pronounced "tenure"), Brown's R&B project with one-man sound factory D-Madness, which included Jantzen and Thomison. Meanwhile, Brown and Jantzen were also songwriters and vocalists in dance hybrid/pop act L.A.X. Keeper broke out in 2015 with the bouncy, cable TV-ready "Happy to Be Sad" on Broad City, and a good look in Complexmagazine for "Next to Me."
The latter track sits flush in the middle of the trio's retro intense debut LP, Moonhigh, which recalls the house and drum 'n' bass eras. Especially evident is a Nineties R&B bent, equally reminiscent of bigger acts like TLC, as well as lesser acts such as Xscape and 702. A new Bird Peterson-produced EP, the lush and stormy Corners, builds steam laid by their influences, Portishead and Björk.
"It doesn't sound like electronic music," says Jantzen. "It's really dark, really beautiful."
"It's definitely still soulful, just more cinematic in a way," follows up Brown. "The production alludes more to trip-hop than it does club beats."
Regardless of sonic evolution, Keeper's essence and truthfulness remain, especially in the lyrical content.
"Lyrics are about processing," offers Thomison.
"Something happens in life, you have a feeling, and you have to catch it. You have to express it," says Brown. "It's like you're trying to understand what's going on."
Catch A Rising Looper: Bayonne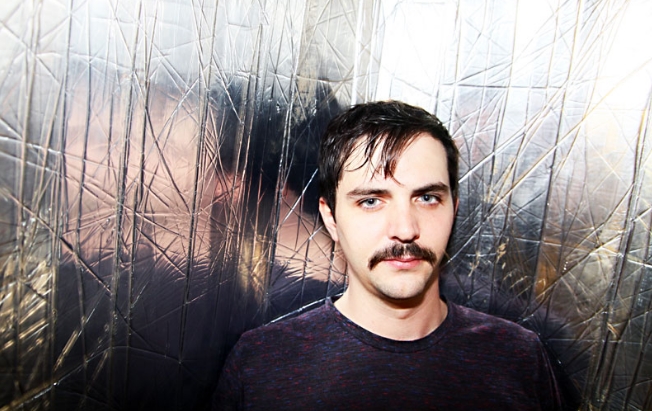 Multi-instrumentalist and Texas State graduate Roger Sellers, 29, wants you to "imagine a folk-dance-Americana-electric-symphonic fusion, where Philip Glass, Sufjan Stevens, and Joanna Newsom all groove to late-night ambient house music in [Beatles producer] George Martin's living room." Initial releases – ­his self-titled debut, 8 Songs, and Moments – fit his descriptions. 2014's Primitives does not.
Immersive and nostalgic, Primitives sits in the crux of being alone, being lonesome, and confusion determining the difference. Heavy on analog phrasing and deep layering, the album's cut through with his piercing falsetto. The subtle percussive bounce inside his looping works as carriage and grounding technique.
"One of the reasons I love looping so much is because it doesn't really allow you to second-guess things," he says. "You easily fall into the groove of something rather than make something sound specific."
Ironically, Sellers' audience didn't understand the change in direction. Enter new management and big new label, Mom + Pop, home to indie brand names like Courtney Barnett, Neon Indian, and Poliça. Most importantly, enter Bayonne, Sellers' nom de guerre for his electronic focus. This year saw the re-release of Primitives to greater fanfare in indie electronic circles.
"I guess Bayonne was a way to differentiate my live set with more electronic gear from what I used to focus on, which was acoustic, folky kind of material," he shrugs.
He's amazingly subdued about Primitives' improved reception. I feel him shuffling his feet, or casually deciding on Amazon Prime purchases from my side of the phone call. He absolutely could not be more relaxed.
"There's a team built up for it," he acknowledges. "When I first released it, it didn't hit everywhere it needed to. We re-did the album art, but the record's still exactly the same. We're trying to reach into a bigger audience."
Sellers says he's still wondering what's next, but he seems primed for indie stardom.
"I just wanted to make it work for the longest time," he thinks aloud. "I still don't know if it's going to work. It's a constant struggle trying to figure out what the next step is, artistically or creatively."
Old-School Sampler: Butcher Bear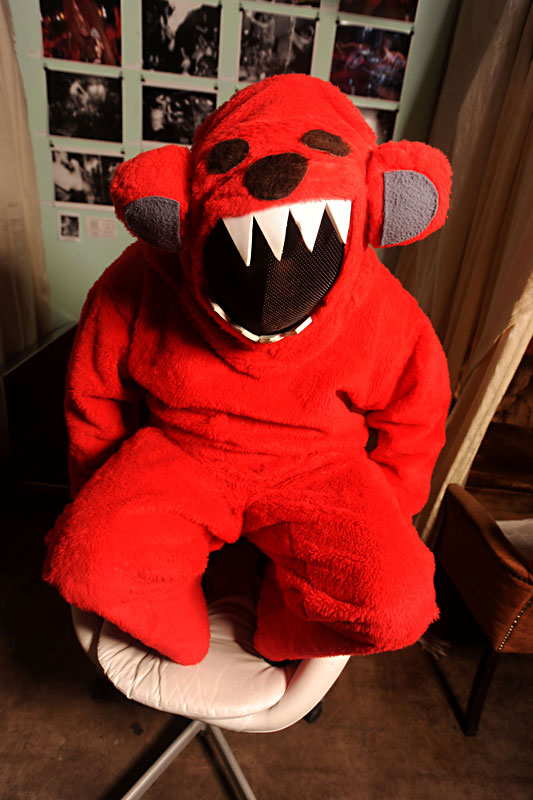 At Thunderbird Coffee, Ben Webster appears to be an exceedingly normal adult. He's 39 and married. Outwardly, he's grown out of his "shaved head with dreadlocks, coming out as bangs, super punk rock" appearance. Fortunately, for his fans, the punk with encyclopedic knowledge of subterranean fare still lurks inside.
An Austin native, Webster gained recognition as a primary member of ever-changing post-punk collective Attack Formation, and more recently, as beat collagist Butcher Bear (revisit cover story "Cult of Personality," June 25, 2010). Continuing his beat chicanery on the recent This Is How the Game Gets You Played, he delivers a disorienting smash-up of oscillations, unusual vocal samples, and good ol' fashioned basslines and kicks. Onstage, his process remains centered on what could now be called old-school principles.
"I like to perform with samplers, not with the computer," he says. "I don't really trust the laptop and live setting. Especially with bass music, because I've seen it so many times when the guy's like just about to drop, and then it cuts out. Samplers work pretty much 100 percent of the time."
He's simultaneously built his prolific Insect Records into something of a machine, beginning with incredible momentum by releasing Cleveland punk outfit This Moment in Black History's powerful Raw Black Power 7-inch single. Since the homegrown imprint's 2008 launch, Webster's released some of the most explosively creative, beat-inspired music in Austin, including works by good friends and occasional partners Reaganometry, Lo Phi, Out of Place, and Soundfounder. Indie hip-hop gamers Georgia Anne Muldrow, Guilty Simpson, and producer/DJ House Shoes have dropped well-regarded singles on Insect.
"I didn't think it was really going to be a label for longer than eight releases," he admits. "Now I'm not wasting my time as much as I was before. I've definitely made enough mistakes along the way."
He credits producer/drummer of Dâm-Funk's Master Blazter, Jovan "J-1″ Coleman, a close friend who passed in 2011, as a reshaping influence.
"He [made connections] and introduced me like we were born together. That really changed the label, and the direction of what I thought was possible."
Tangerine Dream Extended: Survive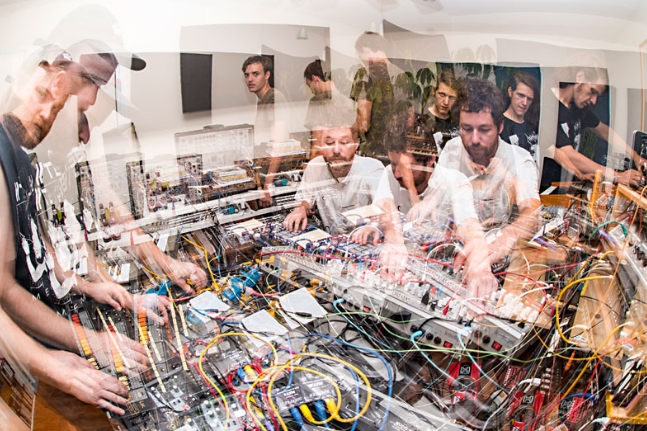 "It's weird when somebody asks what you do, and you're like, 'I do electronic music,' and they're like, 'Dubstep or something?' 'No, I play synth and drum machine, and I make these songs.'
"And they're like, 'What do you mean?'"
Kyle Dixon trails off. The afternoon traffic outside Apothecary Cafe & Wine Bar fills in his pause.
"It's not dance music," he finishes. "Which is what everybody thinks when you think of electronic music."
What Dixon, Michael Stein, Adam Jones, and Mark Donica do together as towering retro synth quartet Survive is decidedly not dance music. All in their late 20s or early 30s, they play almost as a single mind, one forged through years-long friendships and similar tastes.
"I've known these guys since 7th grade, 8th grade," says Dixon. "When we started, we didn't feel like there was anyone actually doing it. We wanted to make a live synth band essentially."
Survive's live shows are stuff of legend, disciplined and concise affairs requiring absolute attentiveness. Working like an orchestra, they transition from movement to movement. The music and its production sounds obsessive.
"I am obsessive," acknowledges Stein, disarmingly honest about his musical OCD.
"We're almost splitting hairs," says Jones, also owner of Austin's Holodeck Records, of the creative process.
Home studios stacked with mostly (expensive) vintage synths, ranging from Ensoniq Mirages to various Moog and Odyssey models, Survive leaves no stone unturned. The gear matches their more direct influences.
"[It's] primarily late-Seventies, early-Eighties stuff, like Italo disco, Cosmic Zen, Tangerine Dream kind of stuff," explains Donica. "Krautrock."
Their output remains nothing short of masterful. Their self-titled debut is cerebral and rhythmic, blending the complex essences of Faust, Jan Hammer, Tangerine Dream, and Kraftwerk into heavy-weighted experiences that bounce and meander. Extending their musical lineage, Dixon sees trends coming back around.
"I feel like techno and dance music that's a little more raw and less overly produced has definitely had a resurgence," he says, finishing his glass of wine. "Then there's a lot of people who used to identify with hardcore or punk rock who are coming around to electronic music and techno. [That's] where we fit in, somehow."
Nasty Tones You Need to Know: Troller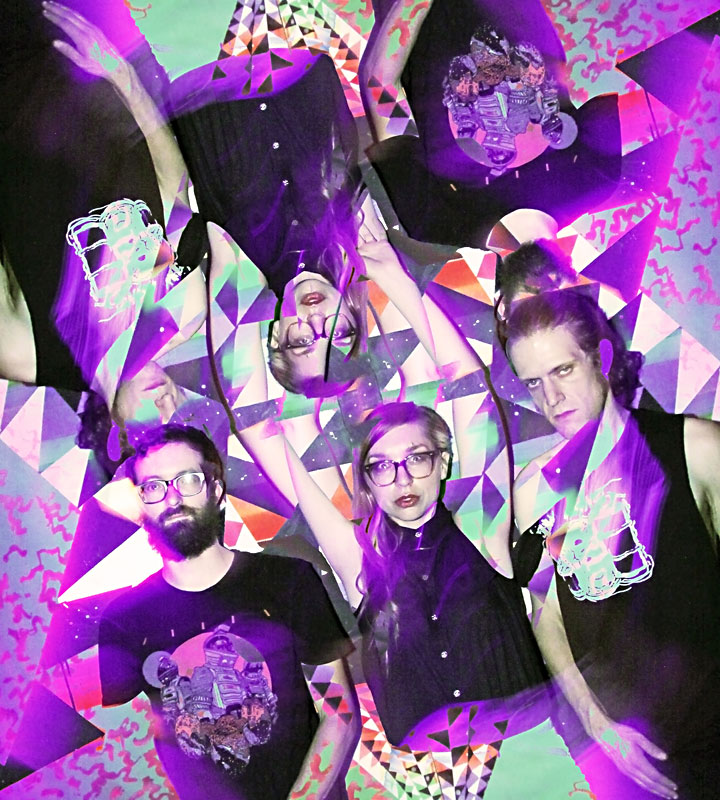 Rolling Stone recently called Austin "creepgaze" trio Troller one of the "10 New Artists You Need to Know." Their second full-length, Graphic, was released jointly by Adam Jones' Holodeck Records and metal label Crucial Blast. The trio – Jones with marrieds Amber and Justin Goers – has perfected emotional disturbance with a wink and smile.
"We're always looking to create that tightrope balance in our music – equal parts unease and exhilaration," explains singer/bassist Amber Goers. "We don't really want our audience to be unknowing bystanders when listening to our music, but instead to be both the victim and perpetrator in their own personal struggle."
Goers' haunting vocal performance, reminiscent of seminal UK banshee Siouxsie Sioux, pierces the trio's intense pop-drone ambience. Painted in a blackened passive aggressiveness, Troller disorients.
"Essentially we're a pop band that wants to be heavy, like a prom queen gone goth," says Jones. "We like the weird, androgynous middle ground between horror and erotica, pleasure versus pain. You can totally enjoy our music as a collection of catchy tunes, but you cannot ignore how nasty our tones get."
Founded in 2012, Jones' inimitable Holodeck imprint has become a go-to for confrontational instrumental rock, wavy analog, and the darker synth varieties available in Austin. It happened out of a need to centralize a particular credo and aesthetics.
"I started Holodeck because I had several projects I wanted to release, and most of my good friends had projects," explains Jones. "I wanted to create a unifying thing that promotes and puts that music out there."
The roster includes the aforementioned Survive, ethereal post-everything Samantha Glass, and minimalist retro synth duo Boan, who are born from the remains of defunct sunny synth trio Medio Mutante.
"It started off just on tapes, then we were able to build on that and start putting out LPs," says Jones. "I've always wanted to not be limited to Austin, or limited to a genre or anything. It's music I believe in, stuff I feel passionate about."
The Future: Bames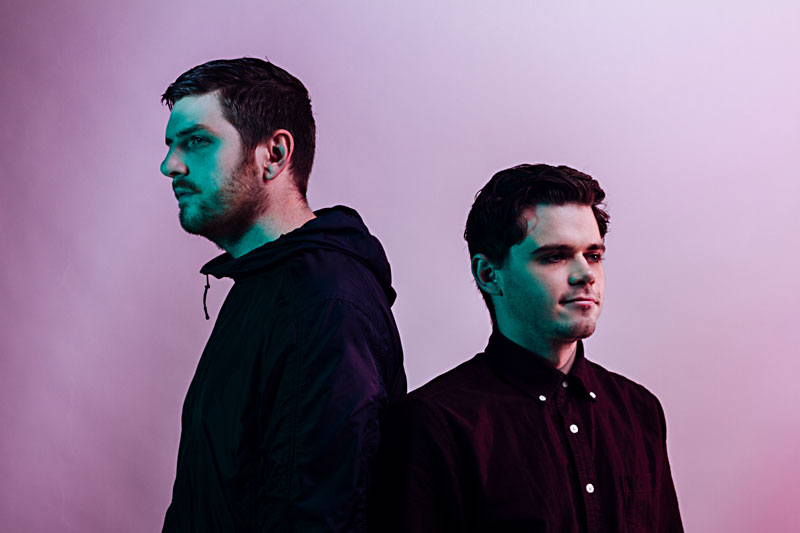 "Bames was born from a wolf T-shirt," explains one half of the duo, Bryan Boutwell. "We were in high school and had similar friend circles. James was wearing a wolf tee, I was wearing a whale T-shirt, and we walked over to each other and commented on each other's shirts."
"From there, we found we had more similarities than just taste in animal clothing," concludes James Welch.
Boutwell and Welch are Bames, a bruising party bass duo in the vein of scene superstar/influence Baauer, that finds itself signed to influential Brooklyn indie Fool's Gold on the strength of a catalog only a handful of tracks deep.
"It's not every day a label of that size will pick up a couple of random kids from Austin with 600 SoundCloud followers, yet they did," explains a grateful Welch. "They took a chance on us."
The title of their slept-on and secretly diverse 2013 debut EP for Montreal producer/DJ/tastemaker A-Trak's Fool's Gold, Drty Bwty, explains their sound, built around filthy basslines, a million hi-hats, airy synths, and stormy effects.
"We love producing when it's raining, or spooky outside," says Boutwell.
New EP on the way, they've made waves as mix creators for the likes of fashion designer Rick Owens. Their booming turn of Keeper's "Next to Me" ranks as one of the year's best.
Universality
Electronic music could be the great musical worry – the beginning of the end, sonic analog to political scientist Francis Fukuyama's influential, criticized tome, 1992's The End of History and the Last Man. The writer argues that human progress should lead toward establishment of a supreme state, "universal, and homogenous." A look at the Billboard 200 or Hot 100, or a listen to Top 40 and SiriusXM Radio, exemplifies increasing homogeneity by way of electronic production.
After all, our artistic landscape – including music – is an instant, truthful reflection of society, and we're living digital lives. It's only apropos that retro synth music, for example, has made its return, likely to stay for a while. It foretold our present day.
Electronic equipment, modern and vintage, offers palpable freedom and artistic liberation. Holodeck and Butcher Bear's Insect Records provide a way forward with ideas firmly owning idiosyncrasies of the past. What is lost becomes new again.
Though reaching homogeneity in other aspects, Austin has become an incubator for electronic music to thrive, if not always acknowledged. Validation by virtue of your sheer existence is not a feature found in the music scenes of Los Angeles or New York. There aren't hundreds of the same things, and you don't need permission.
"The mindset of [Austin] is if you're doing art for art's sake, that's actually how you get people to love your shit," explains Webster. "You have very discerning minds here, who know when they're being preached to, and know when it's an ad campaign. Most of the crazy art is by someone who's either new, or they've been doing the same shit forever and you just heard about it.
"It's not someone who's doing it just to get you to like it."
Read more at: austinchronicle.com/music