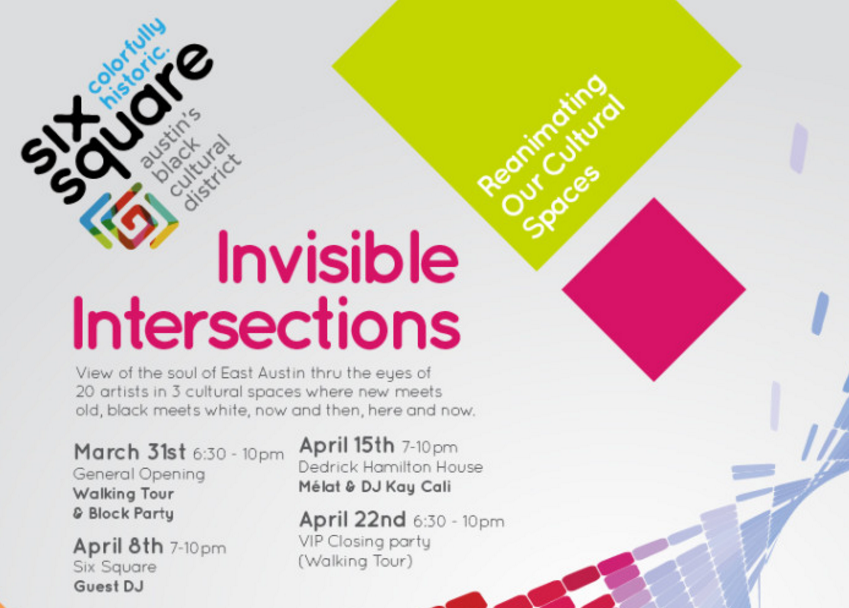 A new multi-media art project frames a question for a rapidly changing East Austin: Who or what do we see — or don't see — when we walk down the streets of East Austin?
(Article by Jeanne Claire Van Ryzin, republished from http://arts.blog.austin360.com/2016/03/31/invisible-intersections-art-project-documents-east-austin/)
"Invisible Intersections" kicks off March 31 with a party and walking tour of the project from 6:30 to 10 p.m. The event is at the Carver Museum, 1165 Angelina St.
Some 20 artists were assigned to one of six intersections in East Austin's Six Square, Austin's Black Cultural District. Artists used photography, video, live performance and other media to illuminate some aspect of the  everyday people of  the vibrant and historic Six Square neighborhood,  just east of downtown.
"We will view the soul of East Austin thru the eyes of these artists," said Lisa Byrd, Six Square's executive director. "'Invisible Intersections is where new meets old, black meets white, in the here and now. The "portraits" reflect a neighborhood in transition; those who were once familiar are now invisible."
Additional walking tours will be held 7 to 10 p.m. April 8 and 15. All events are free.
"Invisible Intersections" runs March 31 through April 22 at three locations: Carver Museum, 1165 Angelina St.;  Six Square Offices, 1152 San Bernard St.  and the African American Cultural Facility/Dedrick-Hamilton House, 12 E. 11th St.
For more information see www.InvisibleIntersections.splashthat.com
Read more at: http://arts.blog.austin360.com/2016/03/31/invisible-intersections-art-project-documents-east-austin/