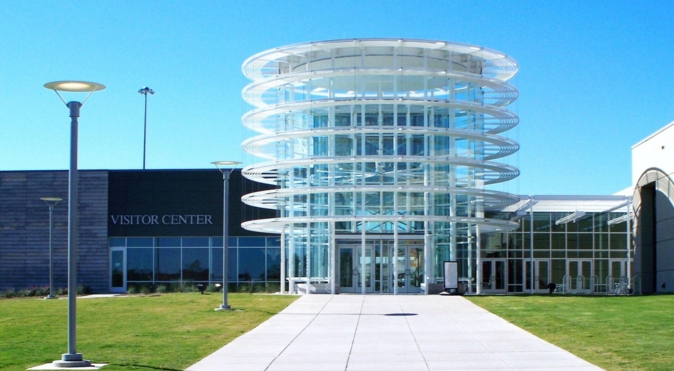 After earning her studio art degree, UT alumna Xochi Solis didn't immediately find her place in the art world. But once she explored jobs in education, joined a collective and showcased her own work, she realized she didn't have to choose just one — she could do it all.
(Article by Daily Texan Staff, republished from http://www.dailytexanonline.com/2016/03/29/director-of-public-programming-brings-art-to-ut-and-austin-community)
As the director of events and public programming for the Visual Arts Center, Solis coordinates symposiums, panels and film screenings for exhibitions. She also develops student workshops and books accommodations and receptions for visiting artists.
In 2008, she joined the MASS Gallery, a local 501(c)(3) art collective that showcases pieces from artists and students within the Austin community. She said the group wants to expand the space to K-12 students in the near future.
Solis dedicates much of her time to her own paintings. She incorporates abstract collages, using elliptical shapes from the natural world and human body, such as clouds, hands and faces, to create depth.
"I'm infatuated with painting," Solis said. "The medium and the physicality of paint and moving it around."
Three years ago, she enrolled in a residency in Oaxaca, Mexico, where she studied under a man named Beto, whose family owned a weaving business that hand-dyed the yarn they used to make rugs and textiles. There, Solis learned to extract natural dies from flowers, bark and other plant materials.
Solis said she is continuing to discover what she is passionate about, particularly through teaching. Two years ago, she re-enrolled at UT to learn Spanish. She also has aspirations to learn American Sign Language and recently joined an all-girl DJ group, the Chulita Vinyl Club.
"You get to have the agency and empowerment to choose your own path," Solis said. "You get to choose what kind of artist you want to be. At any given moment, that can change."
Read more at: http://www.dailytexanonline.com/2016/03/29/director-of-public-programming-brings-art-to-ut-and-austin-community