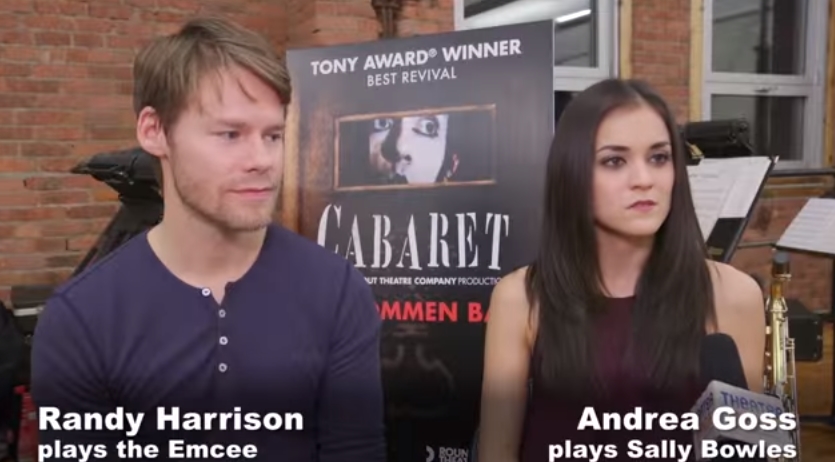 The now-classic musical Cabaret, originally produced on Broadway in 1966, may have a pedigree that dates back to the days of pre-Nazi Germany, but its themes and imagery remain as frightening, troubling, and timely today as they ever have.
(Article by American Statesman Staff, republished from http://arts.blog.austin360.com/2016/03/30/theater-review-roundabouts-cabaret-still-timely-and-powerful/)
Cabaret – with a book by Joe Masteroff, and music and lyrics by the songwriting team of John Kander and Fred Ebb – was based on John Van Druten's 1951 play I Am a Camera, which itself was based off the semi-autobiographical novel Goodbye to Berlin, written by Christopher Isherwood.
The groundbreaking show features a melding of vaudevillian cabaret performances at Berlin's Kit Kat Club with a dramatic throughline following the lives and romances of several individuals who live in 1929/30 Berlin. As the show progresses, this time period becomes more and more central, as we see how the rise of Nazism impacts both the club and these characters.
With its specific focus on the rise of Nazism in Germany, Cabaret might risk alienating modern audiences, but Roundabout Theatre Company's touring production (playing through April 3 at Bass Concert Hall), is shockingly and painfully applicable to the United States in 2016.
This version of Cabaret actually dates back to 1993, and a London production directed by Sam Mendes, which was brought to New York 1993 under the co-direction (and choreography) of Rob Marshall. In 2013, Roundabout brought back that production, making this a revival of a revival, yet one that is still daringly fresh and evocative.
In its exploration of the powers of showmanship and spectacle to spread dangerous propaganda, and how that propaganda, combined with self-interest, can often trump the convictions of even the most pure-hearted, Cabaretspeaks to our divisive contemporary political climate.
Because the spectacle is just so marvelously entertaining, though, the audience becomes complicit in responding to these stirrings of fascism, growing ever more wary of what's happening until the cost of our pleasure is forcefully brought home in one of the most powerful endings ever devised for a mainstream Broadway musical.
Mendes and Marshall's vision of Cabaret is nothing short of breathtaking, creating gorgeously framed stage pictures that combine and contrast burlesque sexuality, clown-like grotesquery, and overpowering fascist aesthetics. These pictures are brought to marvelous, fluid life by a simply phenomenal cast, headlined by Randy Harrison as the Emcee of the Kit Kat Club, whose every moment on stage is a show stopping seduction of the audience, and Andrea Goss as Sally Bowles, portrayed here as a kind of proto-Manic Pixie Dream girl with deep-seated delusions that secure her own undoing.
The kinetic energy of this production extends throughout the entire cast, some of whom also double as members of the orchestra. Thus, the line between actor and musician is just another that gets blurred in a phenomenal production that literally erases the curtain between stage and audience, fantasy and reality, and, most resonantly, self-interest and fascism.
Read more at: http://arts.blog.austin360.com/2016/03/30/theater-review-roundabouts-cabaret-still-timely-and-powerful/