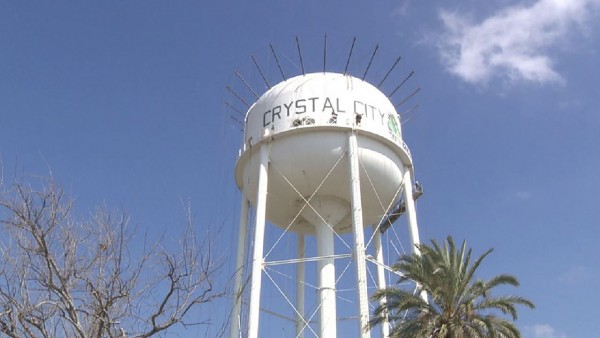 Crystal City, Texas, a small southeastern town not far from the Mexican Border, recently made national headlines after four of its five city council members were arrested on charges of corruption by the FBI. But now, the town, which prides itself on being the "Spinach Capital of the World," is being spotlighted for another reason.
Approximately two weeks after Crystal City council members were indicted, residents began complaining that their tap water was contaminated, reporting a "foul-smelling black liquid flowing" from their faucets, according to YourNewsWire.com.
Photographs taken by citizens illustrate a thick oily tar-like substance coming from the tap. "It looked like black sludge. They were comparing it to oil — that dark," resident Nora Flores-Guerrero told CNN affiliate KSAT.
Black water coming out of taps in Crystal City as 5 city officials are under fed indictment https://t.co/TT5qJUF7hi pic.twitter.com/xcoEjJf6gL

— Kolten Parker (@KoltenParker) February 19, 2016
Could this be another Flint?
Crystal City officials said that they were aware of the problem, but failed to warn residents about the contamination, a move eerily reminiscent of the water crisis in Flint, Michigan. "We didn't get a proper warning. They didn't post anything or send out any type of message to warn the residents. It was pretty scary," added Guerrero. According to the explanation given by city officials, the water turned black after the town drained its water tank for the first time in decades, the Inquisitr is reporting.
Welcome to #CrystalCity Texas where the water is Crystal clear – NOT pic.twitter.com/24AEkXsqzM — NaphiSoc (@NaphiSoc) February 19, 2016
"When the tank was drained last Wednesday, all the built-up sediment on the bottom of the water tank was washed into the water lines and ultimately into homes, schools, and businesses.
"City Water and Wastewater Superintendent Carlos Ramirez revealed that the city's water tower not been cleaned in '20 or 30 years,' according to a report by the Atlanta Journal Constitution."
Unwilling to wait for the government to act, Imelda Allen, superintendent of the Crystal City Independent School District, decided to take precautions by sending her students home early when the tap water contamination became apparent.
Bribing residents for votes and smuggling humans
"Right now, there's not really anyone in charge to oversee and to make people aware of the condition of the water," said Allen. "So I wasn't going to wait for anyone to call me from City Hall. I know that leadership is not present at the time."
Council Member Marco Rodriguez was indicted on human smuggling charges in January, while Mayor Ricardo Lopez and City Manager James Jonas (who is also the city attorney and city lobbyist), were arrested shortly thereafter.
Two current council members and a former councilman, as well as a gaming room operator named Ngoc Tri Nguyen were also arrested for "operating a cash-for-votes scheme," according to the Texas Tribune.
Citizen-led water testing
Instances of contaminated tap water in Flint and Crystal City are not isolated, which is why the non-profit Consumer Wellness Center, an affiliate of Natural News, is participating in an effort to test tap water in at least 100 U.S. cities for heavy metals, including lead, the toxin responsible for poisoning thousands in Michigan.
"The Consumer Centers Lab is calling on licensed practitioners of the healing arts, including chiropractors, naturopathic physicians, complementary medicine doctors, TCM and acupuncture practitioners, massage therapists, holistic dentists and others who are licensed by state boards to send in water samples," according to EPAWatch.org. You can find more information on how to submit a water sample here.
Just days after black water began flowing from Crystal City taps, the Texas Commission on Environmental Quality deemed the water safe to drink and supported ending the boil notice.
TCEQ told Kens 5 News that they performed testing and concluded that the tank maintenance had caused manganese and iron to be released into the water, but that neither contaminant posed health hazards.
Some aren't convinced, which is why Natural News is urging residents from Crystal City to send in water samples to be independently tested. So far they've received samples from nearly 30 U.S. cities.
The results will be published on EPAWatch.org – so stay tuned, and if you have a friend or family member in Crystal City who is certified in the field of healing arts, please urge them to send a water sample to:
CWC Labs
P.O. Box 224
8760 A Research Blvd.
Austin, TX 78758
Sources: