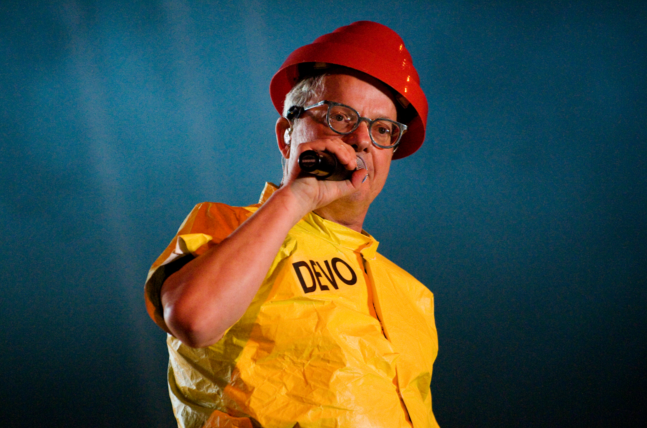 February is filled with flurry of new cultural happenings. Here are our picks for the absolute must-sees.
(Article by Jeanne Claire van Ryzin, republished from http://www.mystatesman.com/news/entertainment/arts-theater/mark-mothersbaugh-art-of-the-1990s-among-best-of-a/nqFsq/)
"Mark Mothersbaugh: Myopia." Opens Feb. 13 and continues through April 17. Contemporary Austin, Jones Center, 700 Congress Ave. Free on opening day (Feb. 13). $3-$5 (free on Tuesdays). thecontemporaryaustin.org.
Though he's most widely known as the co-founder and frontman of the seminal new wave punk band Devo, Mark Mothersbaugh is a creative polymath who started the band as a performance project when he was an art student in the early 1970s.
In the first museum retrospective of his visual art, about 700 objects reveal Mothersbaugh's surreal vision and personal expression through drawings, films, paintings, sculpture and music.
The first floor of the Jones Center will highlight Mothersbaugh's Devo years with photographs, posters, video, music and other ephemera. Upstairs, the double-height gallery will be an immersive experience with several of Mothersbaugh's "Orchestrations" (whimsical sculptural sound-making machines made of organ pipes) along with an array of other impish creations.
Ballet Austin's Director's Choice. 8 p.m. Feb. 12-13, 3 p.m. Feb. 14. Dell Hall, Long Center, 701 W. Riverside Drive. $20-$89. balletaustin.org.
Few ballet companies regularly foster new work by emerging choreographers. Ballet Austin does. Artistic director Stephen Mills presents Swedish choreographer, dancer and filmmaker Pontus Lidberg's "Stream" and "Early That Summer" by New York City's Pam Tanowitz. And Mills reprises two of his own edgy short ballets, "Desire" and "Carbon53," set to the music of Philip Glass.
"Considering Matthew Shepard." 8 p.m. Feb. 20, 4 p.m. Feb. 21. AISD Performing Arts Center, 1500 Barbara Jordan Blvd. $20-$60.conspirare.org.
After a workshop performance in 2014, Grammy Award-winning choral ensemble Conspirare presents the finished version of artist director Craig Hella Johnson's three-part oratorio in memory of the young gay college student murdered in a 1998 hate crime.
"Come As You Are: Art of the 1990s." Opens Feb. 21 and continues through May 15. Blanton Museum of Art, 200 E. Martin Luther King Jr. Blvd. $5-$9 (free on Thursdays).blantonmuseum.org.
Bookended by the fall of the Berlin Wall and 9/11, the 1990s were rife with cultural, social and technological upheaval that we are only now, in retrospect, understanding. The digital revolution was born, the "cultural wars" challenged the freedom of artistic practice, and differences in racial and sexual identity asserted themselves against heterogeneous norms like never before.
"Come As You Are" is the first major museum retrospective to dive into the art that percolated during this pivotal decade. And for the Blanton's iteration, there is added a unique selection of work by artists who grappled with the AIDS crisis such as Felix Gonzalez-Torres, Julie Mehretu and Janine Antoni. And the Blanton will screen Matthew Barney's "The Cremaster Cycle," a five film epic, considered one of the important and elaborate creations of the era
Read more at: http://www.mystatesman.com/news/entertainment/arts-theater/mark-mothersbaugh-art-of-the-1990s-among-best-of-a/nqFsq/