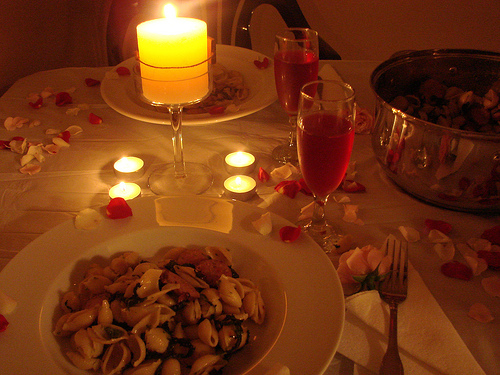 Well, it's that time of year again that all restaurants love: Valentine's Day. Since the holiday falls on a Sunday this year, rest assured that many restaurants will have official celebrations on both days, Saturday and Sunday.
(Article by Rob Balon, republished from http://www.diningoutwithrobbalon.com/austin-valentines-recommendations/ )
Following is a list of restaurants that are not only delicious but will help you score serious points with your significant other. If you'd like additional references feel free to write us at [email protected]
This neat restaurant off W. Anderson at the site of the former Casa Chapala is an absolute delight. I strongly recommend The Cauliflower Carbonara and the Goat Cheese Grits, just to name a few. They are doing a four-course dinner at $75 pp without wine flights or $125 with wine flights.
Yes Vladimir, the Russians embrace Valentine's Day as well. Choose from a variety of ethnic delights at this lovely ethnic restaurant,
The idea of Catalonian fare on Valentine's Day just makes my taste buds shift into another gear. Paella, for example? Works for me.
This perennial favorite will open Sunday night for Valentine's dinner from 5:30 to 9:30. Ned Elliot and his crew will be looking forward to serving you.
David Garrido and Mario Medina have really made a big impression with this restaurant. They will be having a pre fixe meal on Sunday night from 5-10 Reserve early so you can grab a table that overlooks Lady Bird Lake.
One of my very favorite restaurants and the site of our first Gonzo Gourmet Dinner this year, III Forks is putting forth a week-long "Romance Menu" as well as a menu for Valentine's Day. A bit pricey but worth every amazing bite. Great atmosphere as well. Chef Adrian has hit is stride here and III Fork's is rocking. If you really want to indulge, try the Wagyu Ribeye Tomohawk.
Florian Prelog knows a thing or two about a romantic dinner. Hell, he's from Europe! On top of that his food is spectacular. I love the service at this place as well, and that's not something you often see in my reviews. It's also in a beautiful setting overlooking Shoal Creek.
As a gift to their many fans, Trio at the Four Seasons will do it's usual Sunday Brunch and then a special Sunday night dinner. Elmar Prambs and his talented crew deliver some of the best meals in Austin. 5-10 pm.
The upscale Western-style restaurant that replaced Kenichi has become a staple on the downtown dining scene. Tim Love has lived up to his advance billings. They'll be celebrating Valentine's Day on Saturday and Sunday from 5:30 to 11:30 pm.
Dai Due, on E. Manor down from Hoover's sill be serving a pre-fixe meal on Sunday from 5:30 to 9:30. I have become a real fan of this nationally celebrated restaurant. Amazing charcuterie and steaks.
Gardner, the sister restaurant to Contigo is serving both Saturday from 5:30 to 10:30 and then two sittings on Sunday. Sunday is pretty tight but so far Saturday has got availability.
Fukumoto
Kazu Fukumoto who headlined at Musashino for years has got his own place now. And it's terrific. Fukumoto is doing three sittings at 5pm, 7pm, and 9pm, each with four courses. This man has put the I back in Izakaya as far as Austin is concerned.
What better place to bring your sweetie than to Hoover's on Manor. Not the most romantic setting, to be true, but romance can be in the tastebuds of the consumer. And Hoover always delivers. The Smothered Pork Chop speaks for itself.
Jacoby's Restaurant and Mercantile
One of my favorite new restaurants will be open Sunday from 5-10pm. There's a lot to appreciate about Jacoby's including impeccable service.
Shawn Cirkiel's newest Spanish food adventure is getting rave reviews from my readers. They will open from 5-10 Sunday and still have availability on the patio.
Hard to find this place but once you do it's well worth it. Amazing Thai fusion cuisine. They'll be open Sunday from 11am-10pm and so far they're featuring the regular menu. If there are any changes on that front we'll let you know.
This smallish restaurant [32 seats] will fill up fast but this S.1st eaterie is well worth making an early reservation for.Todd Duplechan and his wife have created an amazing restaurant here.
This W. Anderson Lane restaurant now under the capable hands of chef James Ramsey is a combination of great food and fun. Think of it as a scaled down Dave and Buster's but with really good food.
C.K. Chin's long awaited Chinese/dim sum palace has opened on 500 W. 5th St. Valentine's Day figures to be an all-out culinary adventure. Book early
This wonderful high-end restaurant in Dripping Springs will be serving it's dinner menu all day from 12-9pm. Prime rib and lobster tail specials will be included, Make it a point to try this spot about 13 miles S. of Oak Hill on 290. We'll be there so come over and say hi!
Amir Hamelijaki and his brother Ali make magic at this restaurant. Ditto at their new Oasthouse Gastro Pub on 620 at 4 points. District will be open Sunday night with a special course dinner. Ditto for Oasthouse on 620 near 4 points.
Rene Ortiz and crew have decided to celebrate on Saturday night from 5-11:30pm
This is by far one of the best new restaurants in Austin, There are usually long waits here but don't let that deter you..
So you mix 20 bee hives, get pollination for your vegetable garden, and mix in the mind of Chef Taylor Hall, and presto, you have one of our new top 20 restaurants. And what a treat for Valentine's Day.
I had my doubts about this new place st 315 Congress where intimacy is the signature. But proximity to chefs notwithstanding, the food in this tiny eaterie is simply too good to pass up. Go there and i hope they serve the chimichurri-topped marinated beef tongue.There's no waitstaff so any question you may have you're not more than a few feet away from an accommodating chef.
So you start Sunday afternoon with a dim sum celebration and then have a more formal Valentine's dinner at night. Ronald Cheng is the master of events like this and he should just about be recovered from Chinese New Year festivities. So look for a terrific time.
My favorite Brazilian Steakhouse at the Arboretum is offering a Valentine's dinner and a bonus. Everyone who books a Valentine's reservation will receive a free certificate for lunch or dinner at their leisure. The food alone would be good enough for me!
Read more at: http://www.diningoutwithrobbalon.com/austin-valentines-recommendations/