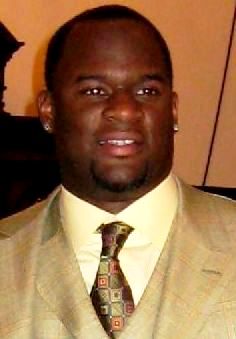 9 p.m. update: In a statement published Monday evening in his Facebook account, former University of Texas quarterback Vince Young apologized to the people who look up to him and his employers for his driving while intoxicated arrest Sunday night.
(Article by  Philip Jankowski and Katie Urbaszewski, republished from http://www.statesman.com/news/sports/former-longhorn-vince-young-arrested-monday-on-dwi/nqBtT/ )
"Regardless of the outcome of the pending investigation, I would like my friends, family and fans to know that I do not condone drinking and driving in any way whatsoever," Young said in the statement. "I am very disappointed in myself and I am sorry for any conduct that has made this legal process necessary. I specifically want to apologize to the young men & women who look up to me as a role model and to my employers at the University of Texas and the Longhorn Network. Please let this be a lesson to you all and a moment for you to learn from. As a public figure, I take very seriously my obligation to set an example for others to learn from."
He added: "I understand the seriousness of the situation I am in and take full responsibility for not having met my own standards of personal conduct. Thank you everyone who has reached out to me for your love & support."
4:05 p.m. update: The University of Texas has provided a statement regarding Vince Young's arrest, stating that they are still working to determine how Young might be disciplined in like of his driving while intoxicated arrest Sunday.
Gregory J. Vincent, vice president for Diversity and Community Engagement, provided the following statement:
"The University of Texas at Austin and the Department of Diversity and Community Engagement expect our employees to behave appropriately and lawfully, both on and off campus. We are aware of Vince Young's situation and are working with UT's human resources department to determine any appropriate action, given Mr. Young's position with UT Austin and DDCE. Mr. Young has been in contact with his immediate supervisor and understands the gravity of the situation."
11:35 a.m. update: A woman violated jail protocol when she picked up former Longhorn quarterback Vince Young on Monday at the Travis County Jail after his arrest for driving while intoxicated Sunday night, authorities said.
She was able to enter the jail's vehicle area around 10 a.m. in a black Range Rover while Young was released inside the jail. The two drove off in her vehicle.
Jail protocol is to release people by having them walk outside the jail through the front entrance, and people are only allowed to drive out if there is a threat to the person's safety, said Roger Wade, Travis County sheriff's office spokesman.
"It was a new supervisor's error in judgment, and we'll make sure it doesn't happen again," Wade said. "The supervisor took pity on the man and let him go out the back door."
The major at the jail was upset by this breach in protocol and will address this mistake, Wade said.
The former University of Texas football star was arrested late Sunday for DWI after being pulled over on Interstate 35 near Airport Boulevard. It's the latest setback for Young, a Houston native who just last month was honored by the UIL for his induction into the Texas Sports Hall of Fame.
10 a.m. update: Austin police arrested former University of Texas quarterback Vince Young after an officer says he saw Young driving erratically Sunday night.
The arresting officer wrote in an arrest affidavit that Young smelled strongly of alcohol. He also wrote that Young's balance was swaying and unsure and that he showed the same symptoms of intoxication while walking. Young was not cooperative with the officer but remained polite, the affidavit said.
Young admitted to drinking three or four bottles of beer at the W Austin hotel before driving. When asked, Young said he did not know what time it was before guessing that it was around 2:30 a.m. It was 11:23 p.m., the officer wrote.
Young stumbled during a field sobriety test known as the "walk and turn," the affidavit said. After he stumbled, he refused to perform any other field sobriety tests and did not provide a breath or blood sample to determine his blood alcohol content, the affidavit said.
Young's speech was slurred and thick-tongued and he mumbled, the affidavit said.
The officer said Young's clothing were mussed and his eyes were glassy. Young laughed at one point, which the officer found odd, the affidavit said.
Young was stopped at a traffic light on the Interstate 35 service road at Sixth Street when he first garnered the attention of the arresting officer. The officer wrote in an arrest affidavit that after the light turned green, Young did not begin to drive for about 10 seconds.
The officer followed as Young drove between 25 to 30 mph on the service road before entering the main northbound lanes at 15th Street, police said.
The officer said he saw Young's pickup drift within its lane while traveling between 42 and 60 mph. On the upper deck of the highway, Young accelerated to 68 mph, where the officer saw the pickup's tires drift to the solid yellow line in the left lane.
Young eventually exited the highway near Airport Boulevard and was arrested at 11:16 p.m.
9:40 a.m. update: Austin police say they arrested Longhorn football legend Vince Young Sunday night during a traffic stop on the Interstate 35 service road.
Police arrested Young, 32, at 11:16 p.m. during the traffic stop, which happened in the 4600 block of the North I-35 service road near Airport Boulevard. Travis County Jail records showed Young was still in jail at 9:35 a.m. Monday.
Earlier: Former University of Texas football quarterback Vince Young was arrested in Austin on a misdemeanor charge of driving while intoxicated.
He was booked into Travis County Jail at 12:46 a.m. Monday, records show.
He has appeared before a Travis County judge, who set his bail at $2,000, court officials said.
As a quarterback at UT, he led the Longhorns to victory over University of Southern California in the 2006 Rose Bowl. He later went on to play in the NFL for six seasons.
Young now serves as a diversity and community engagement officer in the Division of Diversity and Community Engagement at the University of Texas at Austin and helps raising money to support the division's many educational programs, according to school officials.
Read more at: http://www.statesman.com/news/sports/former-longhorn-vince-young-arrested-monday-on-dwi/nqBtT/