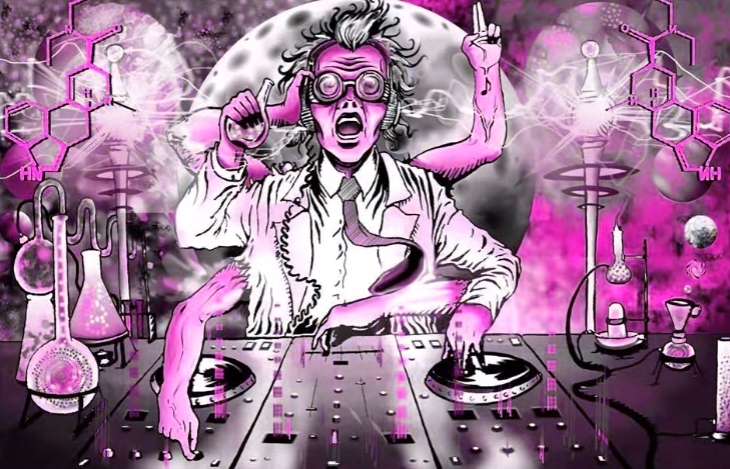 Can techies solve the problems facing Austin music?
(Article by Kevin Curtin, republished from http://www.austinchronicle.com/music/2016-06-10/austins-music-tech-movement/)
As a child, I remember envisioning a future where humans traveled in driverless cars. I was certain then they would become the most exciting and important technological advancement ever known to man. Recently, I passed a self-driving car on Austin's roadways. It had a guitar painted on the door, no steering wheel, and two urban professionals inside. My reaction?
"Douche bags."
The future is now, and yet I'm driving vans from the Eighties, playing tube amps from the Seventies, listening to music on vinyl, recording to analog tape, and getting paid in cash. I'm no Luddite – I'm a musician. We have a complicated relationship with technology: romancing the old school, working in outdated systems, and – here in Austin, Texas – being priced out by people who work for software companies.
Now, a narrative has emerged that techies will be our brothers.
"The live music capital of the world is going to look very different in 2020 than it did in 1950," Austin Music People Executive Director Jennifer Houlihan told a large crowd last Wednesday at an Austin Forum on Technology and Society event titled "How Can Technology Sustain the Live Music Capital of the World?" "We can't look to Nashville, Philly, or Detroit as the places to tell us how to build our industry. We need to look at the things Austin has that other places don't. And tech is a big one of those."
Her comments come at a time when a surge of young entrepreneurs are launching start-ups in which digital technologies interact with Austin music. One speaker at the forum, On Vinyl Music CEONathalie Phan, a recent St. Edward's grad, introduced a platform that would sell playlists of music made by Austin artists to businesses as background Muzak®. Another presenter, electronic musicianTheron Pray, demonstrated new product Synesthesia, an audio-reactive concert visualizer artists can project during performances.
This is just the tip of the iceberg for what South by Southwest Interactive Director Hugh Forrest calls "a growing tide" of locally based music tech start-ups. Sorting through a stack of business cards and emails filtered by "music tech," more than 30 new Austin businesses emerge, many still in beta phase. Here are a few interesting ones:
• OffTop: a mobile app where users record, share, and discover raps over beats.
• Being There Records: Recording live shows of emerging bands, crowdfunding the cost, and pressing them on vinyl.
• TheWave: a VR creation program where users create electronic music using their hands in a virtual space.
If it wasn't already obvious from Spotify and Shazam, the future of music is on your phone. The most prevalent category of Austin music tech enterprises is music and event discovery apps. The capital already has a champion in that realm with Do512, which launched its app last September and already has over 60,000 downloads. Additionally, we're now seeing the emergence of other locally based apps, like Everfest, Spot Caller, and, in part, HubCiti.
"We're in the app age," attests Dave Blue, CEO of Spot Caller, billed as a "simple live music guide," which he says is distinct because the platform works globally while serving the local community. "People are used to Facebook and Instagram. They like simple apps with a clean interface where you can find exactly what you're interested in and get that information. If they're not able to get that, they'll stay home and watch Netflix."
In terms of benefiting homegrown artists and music venues, Blue says event discovery apps contribute by encouraging traffic to shows. At Wednesday's forum, every mouth at the podium referenced the economic woes of local musicians, hardships well-publicized in the findings of 2015's Austin Music Census. The techies trumpet their projects as financial boosters for music, but why should musicians trust them? Aren't they a culpable party in this town's affordability crisis?
"What really surprised me when I got to Austin was that a lot of tension in the live music scene comes from the tech-versus-music idea," noted Synesthesia's Pray, who moved here two years ago, in his presentation. "It's heartbreaking that these two things are at odds."
Jay Boisseau, director of the forum, believes we're at the cusp of seeing how tech can positively impact the native music industry.
"We have this tech-savvy population with a creative bent that's very mission-oriented," he says. "I think as long as Austinites are aware of the problems facing Austin music, they'll work to produce creative solutions."
While Austin's techies are naive to imagine their well-intentioned start-ups will realistically impact the core issues of low musician income and venue longevity, the concept of a digital tip jar – notably implemented by Austin's TipCow app – allows fans to pay bands directly. That digital tipping approach is becoming viable given the increasingly cashless spending habits of consumers, but it faces a sizable challenge to become ubiquitous on fans' mobile devices. Until then, I won't be looking like a tool on stage telling the audience to get out their phones, go to the app store, and download the app in order to tip. A musician's currency remains being cool, and shilling for tech companies between songs isn't befitting of rock & roll.
There are some app concepts that I think could really help Austin's music scene, however. "Playback" currently seeks investors and developers for the following apps:
• DeciMute: Automatically turns the music down to 84 decibels when police are nearby.
• DrinkTicket: Saves venues the trouble of buying those raffle-ticket rolls.
• Bandmate Locator: Sends alert to all members when it's time to rehearse or perform.
• Tinder: But for drummers.
• ClicheBandPic: Backdrops your act with brick wall, train track, meadow.
• InstantPsychBand! Adds simulated tape delay to any song.
Amid the discussion of Austin's burgeoning music tech revolution, Houlihan closed the forum with a message that was so common-sensical and ethically inscrutable that it either transcended or ran counter to the evening's overall theme:
"Pay the cover, tip the band, buy some merch. That T-shirt you'll only wear once or twice is going to get that band's van that many miles to the next tour stop, which is where they make most of their money."
Half Notes
A Staff Report on the Mayor's Omnibus Resolution is expected to be made public any moment. The report comes 90 days after the creative stimulus policy proposal was introduced and subsequently vetted, whittled, and focused, by city staff – taking into account information gathered during various town hall meetings. It will then be up to Council to put it on the agenda for approval (revisit "We Can't Make It Here Anymore," May 27).
The Skyline Theater, an outdoor concert venue on the front porch of the Long Center, debuts Saturday with classic rock hit-makers Boston. The 7,000-capacity space is booked by Paragon Presents, a collaboration between local event producer Paul Thornton and national theatre magnatesNederlander.
Black Pistol Fire's fourth album, Don't Wake the Riot, which takes the local duo's Creedence-on-speed sound to new heights of intensity and catchiness, debuted at No. 11 on Billboard's Heatseekers chart. Frontman Kevin McKeown celebrated by smashing a guitar at NYC's Governors Ball on Friday.
Euphoria Fest, Austin's EDM-heavy spring gathering, diversifies next weekend with an outing in Denali, Alaska. The fest's excursion into the last frontier features buzzworthy DJ Muzzy Bearr, Austin livetronica duo Blunt Force, and homegrown goodtime rockers Denali Cooks. Currently Alaska basks in 22 hours of daylight.
Skank diva Christeene drops her stank package at the North Door next Thursday, before invading Europe for a three-month tour. The rappin', singin' shock provocateur debuts a new stage show including fresh tracks like "Butt Muscle" and "Train Cake." "Let's just say Christeene will be tripping on sex-fueled LSD lights fantastic for this new wave," she teases.
End of an Ear will relocate slightly farther south following the recently completed sale of the South First Street property they've rented since 2005. One of Austin's finest record stores, End of an Ear rose out of the ashes of bygone Drag vinyl bunker 33 Degrees and will continue in a new property that owners Dan Plunkett and Blake Carlisle have the deed to – the location of which is expected to be announced in early July.
Read more at: http://www.austinchronicle.com/music/2016-06-10/austins-music-tech-movement/