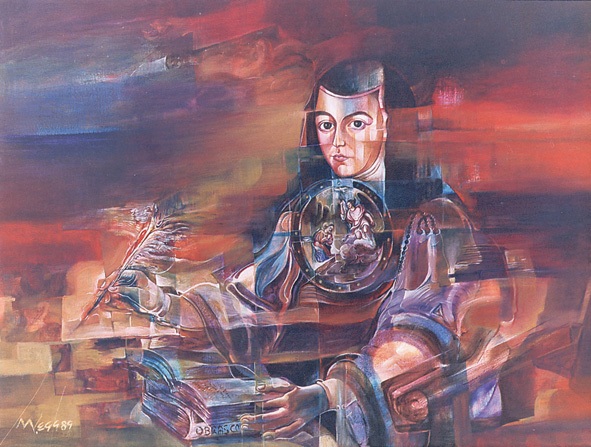 At a time when educating women defied social, cultural and religious norms, 17th century Mexican nun Sor Juana Inés de la Cruz became an acclaimed poet, playwright and self-taught scholar.
(Article by Nancy Flores, republished from http://www.mystatesman.com/news/entertainment/best-of-latino-cultural-arts-in-april/nqtCk/)
Sor Juana, as she's known, is often described as the first feminist of the Americas for her trailblazing writing and fierce defense of women's education.
In honor of her legacy, the Emma S. Barrientos Mexican American Cultural Center will present its eighth annual festival "Celebrating Sor Juana Inés de la Cruz: A Tribute to Mexican Women" on April 16.
The free celebration, which starts at 4 p.m., will feature an interactive theater workshop, art exhibits and live performances. San Antonio artists Marisela Barrera and Jane Madrigal, who are behind the Super Xicana Power Hour radio show, will have a live show focused on women and culture at 8 p.m. in the center's auditorium.
Works by artists Paloma Mayorga of Austin and Mery Godigna Collet of Venezuela will be featured in the center's galleries. Godigna Collet's exhibit "Petro-Poems," which opens at 6 p.m., echoes the poetry of Sor Juana in a unique way. Godigna Collet uses crude oil and its byproducts as her medium and creates "poems" with these materials.
Visit austintexas.gov/page/emma-s-macc-events for more details and theater workshop registration information.
La Santa Cecilia performs at Flamingo Cantina
They're no strangers to Austin. Over the years we've seen Los Angeles-based band La Santa Cecilia make hips shake everywhere from Pachanga Fest to South by Southwest with their bilingual, hybrid Latin grooves.
Don't miss the chance to catch these rising stars at 9 p.m. on April 2 at the Flamingo Cantina.
Since I last chatted with the band two years ago, La Santa Cecilia has experienced a meteoric rise. Not only are they helping shape a unique bicultural sound with their fusion of rock, folk and pop with Pan-Latin rhythms, but they're Grammy winners now. Through their music, they've also helped put an international spotlight on issues like immigration reform.
The band's 2013 album "Treinta Días" (30 Days), which included a collaboration with Elvis Costello, led them to their first career Grammy. La Santa Cecilia's recently released album "Buenaventura" brings together other high-profile collaborators like Argentine rock legend Fito Páez.
Austin-based Selena tribute band "Bidi Bidi Banda," alongside DJ Vanessa La Bestia, will open the Flamingo Cantina show. Online tickets are $20 ($25 at the door) and are available atflamingocantina.com.
Native Roots Open Mic series at Resistencia Bookstore
As an aspiring writer in college, I found myself encouraged by the late poet and founder of Resistencia Bookstore Raúl Salinas to read my poetry at the long-running open mic series, Café Libro. It was there that emerging writers and established spoken word artists came together to exchange ideas and build community in a safe space.
While Café Libro continues to offer this opportunity to Austinites, Red Salmon Arts, the nonprofit that creates programming for the bookstore, also recently added a new open mic series called Native Roots, hosted by University of Texas Linguistic Anthropology graduate student Qui'chi Patlan.
The series, which features indigenous and non-indigenous artists, showcases performance styles ranging from spoken word to comedy in order to promote culture exchange. On April 24, the series will present two headliners including performance poet and musician Lyla June Johnston, who is a descendant of Navajo and Cheyenne lineages.
Singer-songwriter Rob Saw from Akwesasne Mohawk Nation will also headline the free event, which goes from 4-6 p.m. Shaw describes his music as "Native Americana" for its blend of traditional American Indian music with an indie country feel. Visit resistenciabooks.com for more information.
Read more at: http://www.mystatesman.com/news/entertainment/best-of-latino-cultural-arts-in-april/nqtCk/