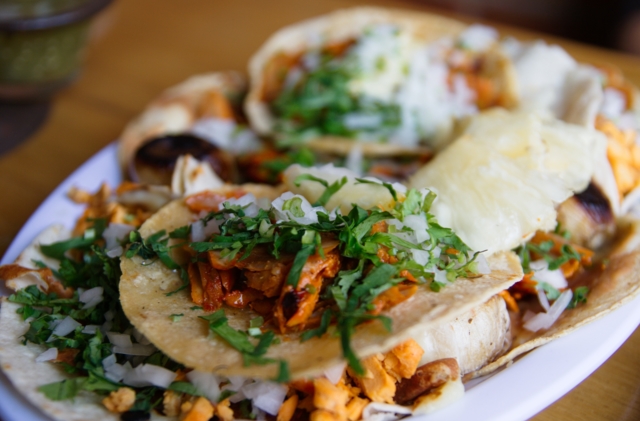 Living in Austin means you can look beyond Mexican restaurants and trailers for tacos. Especially if the person calling the shots in the kitchen is from Texas. This Dallas-raised chef shows proper respect for his creation, making doughy corn tortillas like tamales with elastic pull. They may be served in a New American bar-restaurant hybrid, but many Mexican restaurants around town pulling their corn tortillas from a bag would be wise to take note.
(Article by Matthew Odam, republished from http://dining.blog.austin360.com/2016/02/23/taco-tuesday-grit-fried-chicken-taco-gluten-free/)
The kitchen mixes the cornmeal, grits and cornstarch to create a gluten-free dredge that gives a granulated crackling to the juicy fried chicken thighs. The flash fry puts a sandy texture on the chicken that is much more appealing than the fierce, brittle shells you find on some oily deep-fried chicken.
There's no accompanying salsa, but the layering of flavors proves the chef's skill.
MyStatesman.com readers click here to continue reading about this elevated bar food.
Read more at: http://dining.blog.austin360.com/2016/02/23/taco-tuesday-grit-fried-chicken-taco-gluten-free/