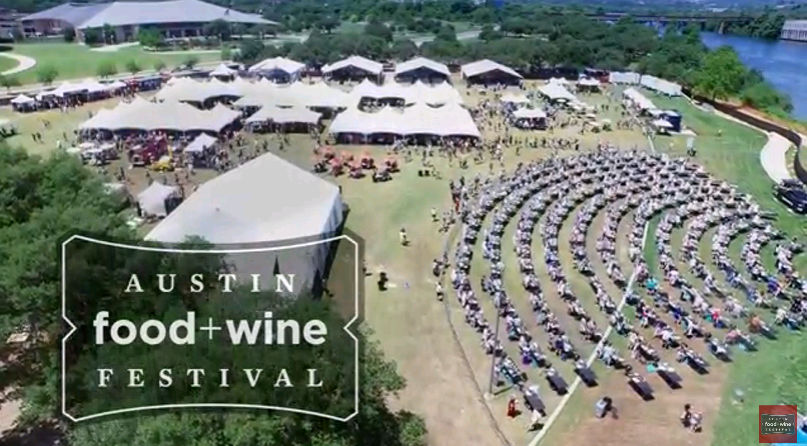 It's that time of year again.
(Article by Layne Lynch, republished from http://www.texasmonthly.com/eat-my-words/austin-food-wine-festival-chef-qa-thai-changthong/)
The Austin Food & Wine Festival is only weeks away, and a lineup made up of extraordinary local and national chefs is about to descend upon our capital. As in years past, the festival has set its sights beyond the city limits, inviting a slew of gifted food and beverage personalities from around nation to showcase their incredible talents. This year's lineup is perhaps the best yet, with James Beard Award Winners Hugh Acheson and Aarón Sánchez, Austin's own Tyson Cole and Bryce Gilmore, the ever-jovial Tim Love, Andrew Zimmern, and many more.
To kick off the festivities, Texas Monthly caught up with some of the attending chefs to gauge their views on Texas's culinary scene, the pros and cons of celebrity chefdom, and the next steps in their careers.
Here, Thai Changthong of Thai-Kun, which just opened as a brick-and-mortar restaurant in February after operating as a trailer, discusses how his childhood palette inspired an amazing menu, how he tries to make his father proud, and where he eats in Austin.
Layne Lynch: Growing up in Bangkok, what were some of the staple foods you dined on and how did those foods affect your interest in cuisine?
Thai Changthong: Boat noodles, Moo Ping (pork skewers), and any type of Thai noodle were special to me because when I moved away from Thailand those flavors were always in the back of my mind.
I wanted to eat those foods every day. I wanted to recreate all those flavors. My dad, my mom, and my grandma just kept feeding me, and I kept learning more and more about the food. Every time I ate somewhere else when I moved here, it was not how I remembered the flavors from my childhood, so when I opened [Thai-Kun] I wanted to recreate those memories.
LL: When did you first feel the pull towards the culinary world?
TC: I don't think I ever thought about becoming a chef. It just happened. My friends would come over to my house and ask me to cook for them, and it was wonderful to share my culture with them. The more my friends would come back and ask me to cook, the more my confidence was built that people were actually enjoying the flavors I knew by heart.
LL: Would you compare any of your childhood dishes to some of the options you have on your menu at Thai-Kun?
TC: Yes, the same dishes I grew up eating I've done my best to recreate on my menu. I want to make food that guests would eat at my house, and why would I hide that? I cook what I eat, and I am certain of these flavors.
We do have a reputation for being spicy, especially the traditional dishes on our Issan menu, but we have other options that anyone can enjoy. We want to introduce first-time diners to these less-spicy-but-still-delicious dishes like the clay pot and the roasted chicken and build a relationship with them where one day they may be ready to jump to trying something like the Issan menu.
LL: Who would you say has had the biggest impact on your career, and why?
TC: My family and friends because of their amazing support and their help in building my confidence and sharing in these flavors.
My dad has had the biggest effect because he's a really great cook. I want to make him proud every day because he backs me up on my flavors and checks in with me on the recipes. Back home, it's normal for people to hoard recipes and for recipes to die with the chef, but I want to share these recipes with everyone so they keep coming.
LL: You received a lot of press when you were operating the trailer. Were you ever afraid the trailer would lose its magic as it transitioned to brick-and-mortar?
TC: No, mostly because the trailer helped me get where I am today. We have a great team and I believe deeply in my team, so I never question that. We just keep pushing to share an authentic menu at our truck at Whisler's and our brick-and-mortar location at Rock Rose.
LL: If you aren't eating Thai food at your restaurant, where else would you get it?
TC: I love hopping around to different places. I have one or two favorite dishes at certain restaurants. If I want crab fried rice I go to Thai Passion, and if I want duck noodles I go to Titaya's.
LL: What would you say is the most important lesson Paul Qui taught you when you were training under him?
TC: Learning how to talk to people. Giving people second chances—they always come back better than the person they were. Never give up. Be patient. Embrace a system in the kitchen.
LL: The spring season is upon us. What are some of the things you're looking forward to utilizing on your menu?
TC: A lot of Thai food is fermented, so the seasons don't really matter as much. I'd like to play with Southeast Asian fruits on cold dishes, like maybe a raw fish ceviche.
LL: What's the most intriguing dish you've pieced together recently at Thai-Kun?
TC: Probably the boat noodles or the larb because we use cooked blood.
LL: The Austin Food & Wine Festival features a good mix of Texas and national chefs. Who are some of the people you're looking forward to seeing or meeting?
TC: I'm excited to meet people and study their ideas. It's always good to see Clinton Kendall [the chef de cuisine of East Side King and Thai-Kun restaurant group] and Kevin Fink from Emmer & Rye.
LL: What are your top five Austin restaurants at the moment?
TC: Qui for the Pulutan menu, First Chinese BBQ for the wonton soup, Deckhand Oyster Bar for oysters, Emmer & Rye, and Via 313.
LL: Now that Thai-Kun is open, what's next for you?
TC: I'm focusing on the now, making Thai-Kun the best it can be and staying true to myself. I hope to make guests more comfortable with the flavors and to keep bringing more and more authentic dishes to the menu.
Read more at: http://www.texasmonthly.com/eat-my-words/austin-food-wine-festival-chef-qa-thai-changthong/