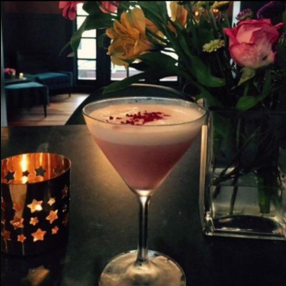 Of all the great things in Austin, we lacked a cool, hip place, open late, that catered to the sweeter side of life. But we don't have to wait any longer because Nightcap opened last month in the Clarksville neighborhood. And they're here to answer our prayers. The boozy dessert shop is bringing refinement to late night and offering a menu that hits the spot.
(Article by Shayda Torabi, republished from http://www.dinewithshayda.com/nightcap-austin-tx/ )
This is a place that makes you want to stay a while. Each room feels like it's got it's own personality but together it tells the story of Christin Adams and her vision for a restaurant for friends and lovers to convene and share stories over delicately thought out desserts. Pair the lights, furniture and accents with the food and I think we've found a winner.
And I think Austin agrees. Opening just shy of a month ago and the place was packed and filled with conversation. It felt like this was the place to be and in the same moment we felt like we were the only ones in the room. We would find ourselves nodding off into the excellently chosen soundtrack as we ooooohhhh! and aaaaahhhh! over other table's menu choices. Everything about this place is special.
Nightcap is run by Adams, along with her are Executive Chef Drew Dunston and Pastry Chef Annabelle Turner. The menu features sweets like Olive Oil Cake with charred apricot, buttermilk gelato. And basil milk which had the slightest taste of a fresh salad with the basil and olive oil but left your mouth in a sweet state.
It wasn't just elevated from a flavor pallet perspective, but from an artistic perspective, the food presentation spoke the loudest. It was bold and refined, purposeful and whimsical. I loved the detail that went into plating at this restaurant.
We also ordered the Elvis Brownie, it was just as good of quality as the Olive Oil cake, and had a taste of coconut, bananas, caramel and chocolate. Think decadent and moist. It melted in your mouth and we literally licked the bowl clean.
This truly is a restaurant that has thought of everything, from the moment you walk in to the moment you leave you are being delighted. Whether it's looking up and finding a Dick Clark inspired wallpaper selection or paying your bill by book (our receipt book was The Great Gatsby).
If you are looking for a full meal or simply nightcap after dinner, this is a place you absolutely must visit as soon as you can. Next on the menu that caught my eye were the Coffee & Donut with coffee panna cotta, cardamom cream, crispy ham, and ricotta beignet.
When you go be sure to tell them Dine With Shayda sent you, and let me know what's your favorite thing about Nightcap!
Read more at: http://www.dinewithshayda.com/nightcap-austin-tx/