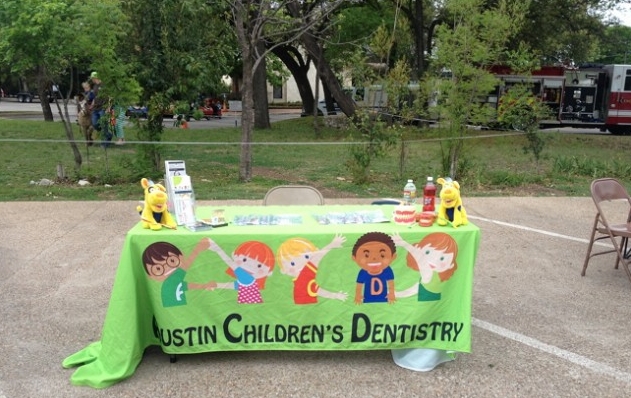 A 14-month-old toddler passed away on Tuesday after visiting a dental office in North Austin to have a cavity filled. Time Warner Cable News (TWC) reports that Daisy Lynn Torres was brought in to Austin Children's Dentistry for a procedure the office calls "routine." But something went wrong when the child was given anesthesia.
Daisy quit breathing and was immediately rushed to the North Austin Medical Center where she died. "There was a medical condition where the child needed to be transported," said office spokeswoman Sarah Marshall, adding that both the dentist and the anesthesiologist were in the room with the toddler when complications arose.
The Travis County Medical Examiner completed an autopsy on the girl, but the exact cause of death is still pending.
While the child's immediate family was too distraught to issue a comment, the toddler's aunt, through tears, provided the following statement:
"She was the sweetest, most precious, beautiful baby that everyone knew, and she brought so much joy to everyone. She was so intelligent. She was 14 months old and already knew her ABCs and knew how to sing 'Twinkle Twinkle Little Star.' She was a strong baby girl, but what they did to her was too much on her little heart, and they took her life."
Safety of using anesthesia on children unknown
A dentist at another Austin dental office told TWC that it's nearly impossible to fill a cavity in a young child without the use of anesthesia because they can't sit still.
"When anesthesia is involved, a number of things could have taken place," said Marshall.
It's unclear whether anesthesia is safe on developing brains. Animal studies show that it could be harmful, but studies on humans have "mixed results," according to the U.S. Food and Drug Administration.
"Some studies of infants and young children undergoing anesthesia have reported long-term deficits in learning and behavior; other studies have not."
Austin Children's Dentistry uses three types of sedation on their patients, including nitrous oxide (laughing gas or happy gas), conscious sedation, and deep sedation and general anesthesia, according to their website.
Conscious sedation involves the use of medication to minimize fear, anxiety and discomfort while maintaining consciousness and responsiveness.
Deep sedation and general anesthesia puts a patient to sleep, leaving them unable to respond to touch or voices. This technique is recommended for "very young children with extensive treatment needs and/or an inability to communicate and cooperate," including kids with special medical and developmental needs, states AustinChildrensDentistry.com.
An investigation
Daisy is not reported to have met those criteria, however.
Austin Children's Dentistry says deep sedation is administered by "a highly qualified anesthesiologist."
"This is a tragedy, it's very upsetting with the loss of any life and especially with such a young child," said the office spokeswoman. "The staff here is very distraught."
The Texas Board of Medical Examiners launched an investigation into the toddler's death, but it could be up to three years before they reach a conclusion. "If the board feels other patients could be at risk, the dentist's license could be suspended immediately," TWC reports.
The dentist's personal information is not being released at this time. None of the dentists employed at Austin Children's Dentistry have ever received any disciplinary actions, according to the Dental Examiners Board website.
The family is hoping to raise $10,000 to help cover Daisy's funeral expenses. You can donate through their GoFundMe page and YouCaring.
Sources: